Let's Have a Look At The Impact Of Technology On Education In Recent Years
Overview
Since the introduction of the COVID-19 pandemic, technology has become increasingly important in education. Major technological advances have had an impact on almost all parts of our lives. Education is one such area that has experienced significant change. Technological advancements are greatly impacting education throughout the world, which means that teachers and students need to stay closely aligned with the rate of technological change. The impact of technology on education can be felt in every way.
Using new technologies for teaching, learning, and administration in academic institutions is gradually but steadily changing educational patterns. Education is increasingly reliant on cutting-edge technology to provide outstanding teaching and learning opportunities. Teachers are learning new technologies to help students. Virtual classrooms, new communication methods, and new ways of teaching could entirely transform learning environments in the future as new technologies enable the interactions between professors and students. It is worth noting that students are now able to get answers to almost every question with the help of technology.
Learning has moved on from the days when we used to need to rely on printed books to gain knowledge. With the advent of tablets, smartphones, and e-books, textbooks, library shelves, and blackboards seem old-fashioned. Thanks to technology advancements, anyone can access answers to their questions with ease.
What Role Does Technology Play in Transforming Education?
Modern technology has revolutionized the entire educational system. Online classrooms have made it possible to learn virtually anywhere at any time on any subject, as long as you have internet access.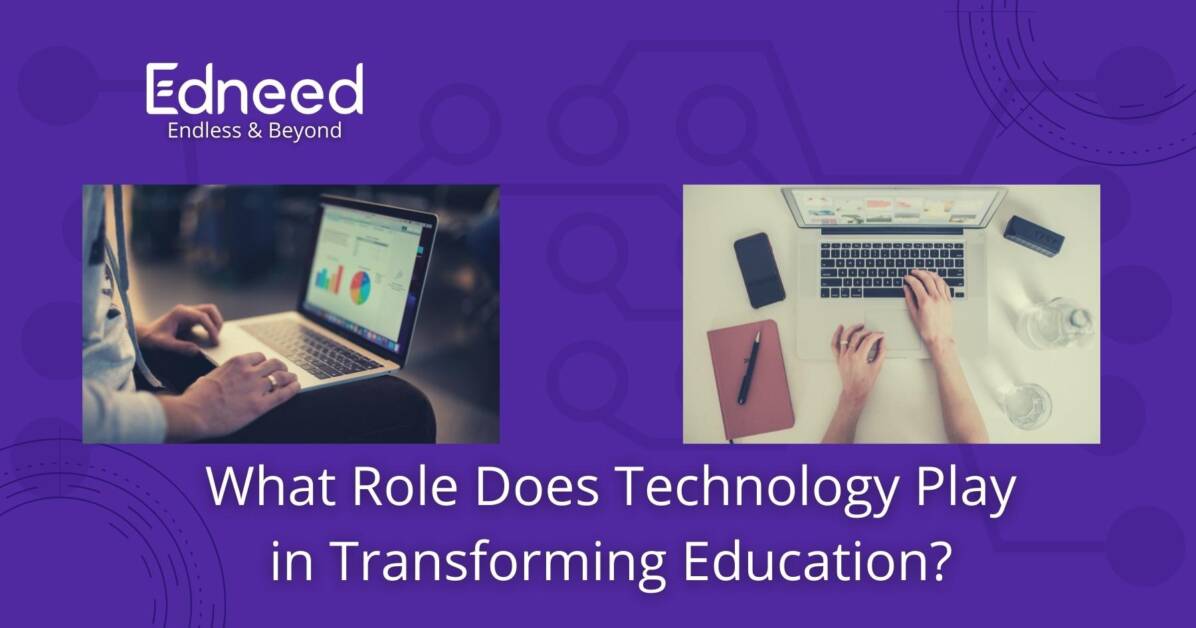 Enhanced accessibility
Bringing education to every corner of the globe has become possible thanks to technological advances. Accessibility is the most important component of any education. The advancement of technology has made education accessible in rural areas, and in cities across the nation. Due to technological advancements, schools across the nation are empowering faculty and students to make the best use of technology. Professionals from around the world can deliver lectures to class participants by streaming video.
Communication Enhancement
Through technology, students can communicate with each other and learn collaboratively. There are also forums where students can communicate and discuss ideas to develop a deeper understanding of the concepts. Educators can utilize collaborative tools to create content materials for learners to share, allowing them to improve their learning experiences.
Access to more online study materials
As more and more people turn to the internet for learning and teaching purposes, there is greater availability of online materials, such as e-books, reading materials, blogs, articles, and journals. The internet provides a wide range of educational materials such as videos, authentic journals, and publications to enhance learning. Luckily, information websites are available free of charge in a variety of formats, ranging from text to pictures to videos, which allows for easier learning.
Education tailored according to the individual
Some students may need more time to learn than others, and we all know that not all students have the same abilities. Technology allows students to receive personalized learning, which transforms the education system. This allows educators to provide students with individual guidance through the use of blended learning techniques.
Better flexibility
Each educational system requires flexibility in order to achieve greater productivity. With advancements in technology, everything is now available on the Internet for anyone to refer to, and students no longer have to worry about handling notes or assignments. In addition, it allows students to learn at their own pace and communicate with teachers at any time about their doubts.
Technology's impact on education
Here are some significant changes brought by technology in the education sector.
Virtual Classrooms
With a virtual classroom, students have access to a digitally enhanced learning environment. It is now possible to earn a degree at an online school without ever having to set foot in a physical classroom. In modern education, there is a broad range of online colleges, which can adapt better to the lifestyles of single parents with a busy schedule, or students living far from the educational institution.
eBooks
Students no longer have to carry bulky books; they can carry tablets or laptops that give them access to eBooks instead. Online libraries seem to be getting more popular as the book concept is shifted and taken to the next level as everything a student needs is available on their gadgets.
Conclusion
The whole point of teaching is to introduce students to new concepts that they weren't familiar with. Tech has made a significant impact on education, opening several doors and allowing new perspectives in the classroom – which aids better understanding and learning. Edneed is transforming education significantly with its digital tools for example, by making instructional materials easier for students to understand and by making learning seamless.