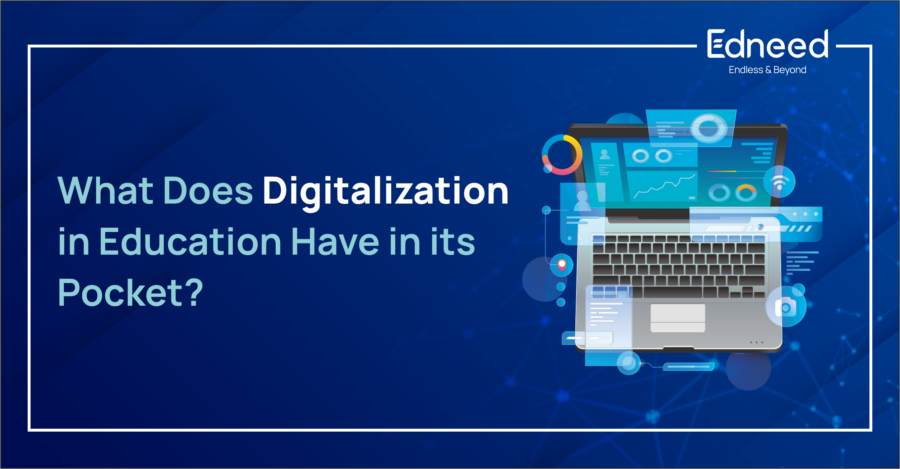 What Does Digitization In Education Have In Its Pocket?
Overview
What are your understandings about digitalization? Is it about online classes? Or is it just about online tests? Let us tell you that it is way more than that. Every schooling activity or academic activity you do can be described as digitalization. When digitization was integrated with education it produced its finest product. Over the years, the educational landscape has undergone many noticeable changes. Most of the changes are best supported in making the transition happen with ease.
What is Digitization?
Most of you are curious by now about what actually is Digitalization? Well, we got you covered!
The process of digitalization is the medium for converting information into a digital format. A modernization initiative of an old legacy system or bringing a new system online is an example of this process. It is by converting or presenting physical items in a digital format that they can now be accessed and manipulated by computers.
Why Digitization is Important?
With digital transformation, it is possible for individuals and organizations to become more productive and innovative (through decision making, connectivity, innovation, and augmentation). Using technologies like smart devices, school management systems, cloud services, social media, and artificial intelligence, organizations can access information and resources like never before, thus fostering greater innovation and growth.
Digital transformation not only seeks to extend your institute's reach, but also to make better use of the advantages and opportunities created by new technologies in a faster, smarter, and more innovative fashion. In order to achieve the end goal effectively, strategies must recognize that digital transformation, as well as innovation and change, are ongoing journeys.
What does Digitization in Education Mean?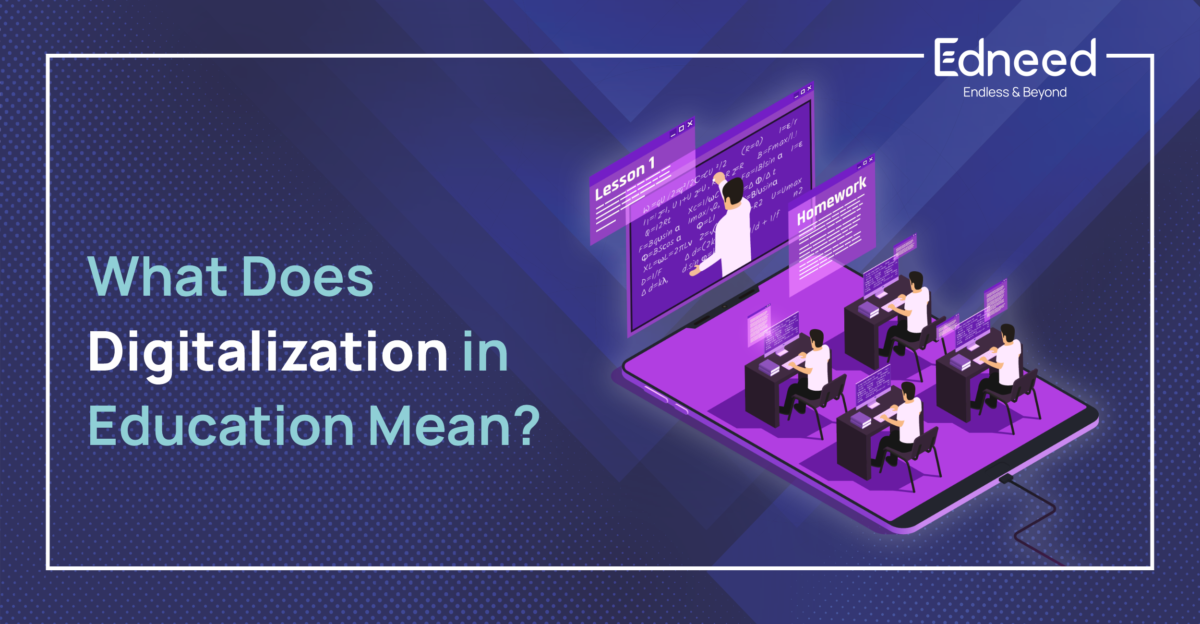 Digitalization is the trendy word of the 21st century that describes it in the most precise way. Education is in the midst of a period when unprecedented ideas are unfolding in the industry, and producing advancements that can't be matched by sluggishly adopting technology.
Although technologies have been integrated into teaching and learning for a while, the speed and pace with which they have been developed is new, especially with regard to the Internet, ICT, and digital technologies. Education sector is primarily reactive, as new disruptive technologies emerge in other industries, then they are applied and adapted to existing educational cultures and systems.
As a result of digitization in education, a new phase of education has been initiated that includes advanced methodologies such as:
Taking online classes allows teachers to reach all students more easily and to impart relevant skills to them more effectively. What would happen if you ever wanted to take a course for training but had no time to travel the distance? Courses developed online are designed by experts who are renowned in their fields and can take your learning experience to the next level by providing a real-time learning experience.
With the advent of the online tests, both teachers and students have the convenience of taking an examination online. And to make it more effective and help in fair evaluation of students.
The education sector has changed so much that it is now providing all the course related materials on the management system itself. Most of the institutes have now opted for a management system that allows them to digitize all the study related material. Furthermore, students also have access to multimedia content through e-textbooks and e-texts, as well as digital textbooks, such as videos and interactive presentations.
The Internet: A Medium that Made Digitization Possible!
India has emerged as the third largest internet consumer of the world. In India, most schools and colleges make use of the internet for conducting online exams and quizzes. The internet is thus essential for online education platforms to be successful.
How Digitization is Helping in All Educational Activities
Digitalization has vastly improved education, and tries to tackle administrative tasks as well. When the number of students exceeds the number of administrators, maintaining records of students and their attendance is quite the challenge. Which is why schools and colleges are switching to more hassle-free school management systems like Edneed rather than maintain records in the old-fashioned way.
Conclusion
It is clear that digitization has changed our education system, but that does not mean that classroom learning was diminished. Furthermore, we don't want to let something so precious become obsolete. Digital education in the 21st century has an advantage over classroom learning because it incorporates both classroom-based and online learning methods. Keeping both together also acts as a support system, giving more strength to our modern day students. Digitization has also proven to be a good method of reducing resources used in education. Online examinations have reduced the use of paper, thus reducing the loss of trees. With such characteristics we can say that Digitization in Education is beneficial for everyone.