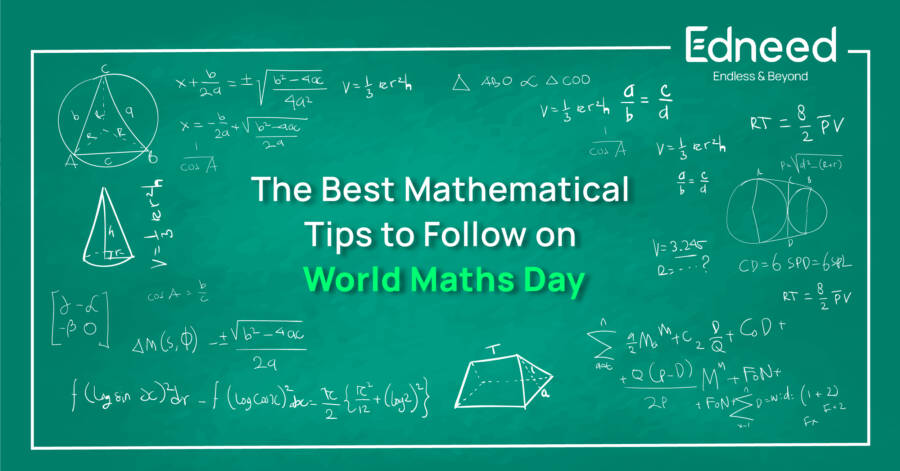 The Best Mathematical Tips to Follow on World Maths Day
"What is mathematics? It is only a systematic effort of solving a puzzle posed by nature."- Shakuntala Devi
We all want to be good at Mathematics. But probably the symbols and letters are being your major obstacle in that direction. The secret to being a genius at Mathematics isn't rocket science; all you have to do is to gain a proper understanding of the concepts to solve problems effectively. To score well in this subject you need hard work, dedication, and fervour to practice.
Stuck with the thought as how to solve the trickiest questions within a snap of a finger? Well, we got you. Though every teacher has a different style of teaching, by following the tips and tricks that we are going to tell you, will surely give you a helping hand in getting better at this discipline. Here are the tips you need to follow in order to levitate your understanding of the subject.
Making Your Basic Concept Clearer
It is not very hard to understand that maths is all about logic and concepts, and in order to ace this subject you really need to get the basics of this subject crystal clear. Getting all the concepts of theorem, and facts about geometry and various numbers i.e, Odd Numbers and Composite Numbers etc.
If you have a problem understanding a particular concept, don't be ashamed to let your teacher know. Rather, ask for help from your teacher. The best possible way to have a clear concept is not to dodge any question and ask your teacher about the same without any fear or shyness. Once you have the concepts clear, use the formulas to solve the questions and get the confidence you need. This way, for the assessments and exams, you will have to have a solid foundation so that you can solve all sorts of twisted problems.
Practice, Practice and Practice!
Have you heard of the quote, "Practice makes a man perfect"? It does fit perfectly for acing mathematics. The key to getting better in this subject is to practice with a variety of books. Don't limit yourself to solving sums that require simple formulas and instead, try solving a wide variety of sums.
It would be wise to practice the complicated problems. When you come up with the right answer and solve the complicated equation, your confidence will automatically be floating to a new height.
It is certain that you can gain excellent grades in this subject if you have confidence and logical skills.
Acing Mental Maths & Play Maths Games
The secret to becoming a mathematics genius lies in mastering Mental Maths. Doesn't it feel like a privilege when you solve a maths problem with a blink of an eye? To properly acquire this privilege, all you gotta do is purview skills about mental maths. It is very normal to feel like humdrum doing the same maths problems, and to overcome such a situation there are plenty of online maths games available. So play interactive games, focus on learning more about the subject and you can become an expert.
Everything about World Maths Day
The World Maths Day is a competition powered by Mathletics, where maths students around the world compete online. Mathletics provides the foundation for World Maths Day through smaller elements of the wide-ranging program. World Maths Day was first celebrated in 2007. The largest online maths competition created by World Maths Day was recognized as a Guinness World Record in 2010 with almost 500 million maths questions answered during World Maths Day 2011, World Maths Day set a Guinness World Record.
This online competition is open to all school aged students. Students compete against other students around the world in contests that involve various mental maths problems specifically tailored to each age group and test their accuracy and speed. There are various records related to the Maths Day competition. World Maths Day 2009 attracted 1.9 million participants. World Maths Day is celebrating its 15th anniversary this year.
Conclusion
You will certainly be rewarded with great results if you put your best effort into this subject. Practice the sums on a regular basis, and embrace the complex nature of Mathematics. Our best wishes to the new emerging mathematical wizard.