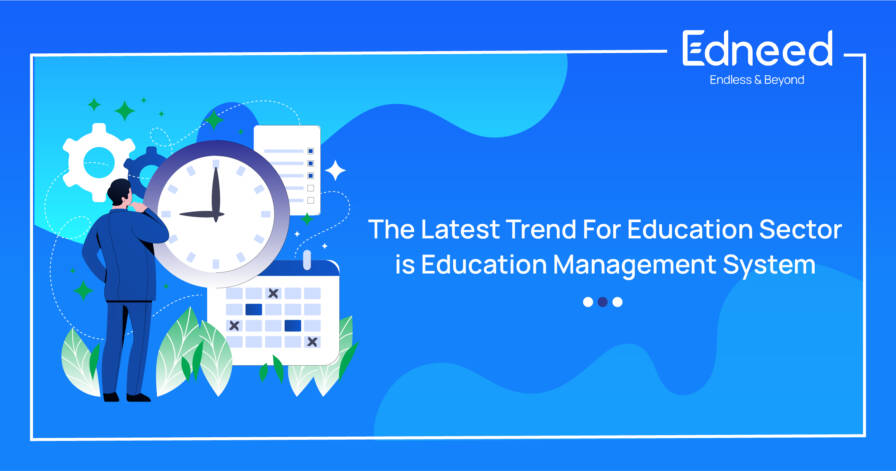 The Latest Trend For Education Sector is Education Management System
Overview
Today, technologies are powering every aspect of our lives. We all know that technology is a part of every industry. And the education sector has not remained untouched by this boom. However, we must thank the embossing of such technological advancement in the education sector that led us all to a more accessible and enjoyable learning experience. Online education has become increasingly interesting as a result of the availability of high-tech learning support tools like the Education Management System.
The best thing about these Ed-Techs is that different types of learners are now getting the help they need in understanding concepts according to their learning style. In this section, we'll explore one of the best forms of educational technology that can be flawlessly integrated into the virtual classroom setting.
The Education Management System
When we talk about learning through online mode, we can't undermine the importance of the education management system. It is one of the most prominent and significant support systems for any online learning activity. It existed in the market for a very long time, but in recent years the importance of this system has seen tremendous growth.
This phenomenon has gained the most popularity in the last 2 years and has become a reality like it existed in our lives for a very long time. Online learning emerged as a savior for students during the time when the pandemic hit and put everything on a halt. When institutes opted for this mode of learning, students and teachers both have faced a bit of difficulty getting comfortable. But over a period of time, not only did they become handy but they also found it a more seamless mode of learning. For conducting online classes, institutes do need the support of the Education Management System.
Tests are an essential part of learning. It gives proper feedback to the teacher for the progress of their students throughout the year. The learning activities are incomplete without a test, and online tests are a requisite part of the Education Management System. A good education management system must provide a variety of modules for creating online tests.
Other Institute related activities
Apart from the online classes and online tests, there are other activities that an Education management system has to offer to the institutes. This includes the attendance tracker, course creator, and so on.
What Edneed is Offering to Your Institute
Edneed is a one-stop digital solution that fulfills all the needs of an institute under one roof. If you have an institute and you want to take it to the next level by digitizing it, www.edneed.com is where you should be. We provide a complete website solution, Education Management System to the educational institute, and our Learning community comes as a cherry on top.
Complete Website Solution
In current scenarios, when technology has impacted our lives so much, having a website will undoubtedly lead your business to visible growth. Even if you run an institute, an online presence will be the first impression that existing or potential stakeholders for your business. Creating a website used to be a daunting task, and it sure didn't take just 2 minutes. However, with Edneed all you have to do is just enter your desired domain name to check its availability. Once you get the domain you wanted, fill up the remaining details, and make the payment for it. Now, log in with the credentials and start setting up the website, and as soon as you hit the "Publish Website" button, your website will be live now. Now, if you notice, all this was done within just 2 minutes.
We have also created a complete guide on how you can- Create Your Own Free Website Within 2 Minutes
Edneed's Education Management System
Here is a thorough guide about Edneed's EMS: Education Management Software Tailored For Your Institute
Edneed Learning Community
We all love being online all the time. And now that technology has impacted our lives, online learning has become a new norm for all of us. Online learning doesn't necessarily mean just online classes. It also means to learn from any available online mode. And, Edneed Learning Community is such a platform that helps educators and learners to connect with each other and share their knowledge. It is a free networking platform.
This platform emphasizes a newly emerging phenomenon that is "Microlearning". It helps everyone who wants to learn about something in short and crisp form.
Conclusion
When we talk about the new EdTech trends, the Education Management System automatically comes into the picture. And, choosing the right EMS that makes the learning process seamless is a must for your institute. Edneed education management system is the right choice you can make as an institute owner. A number of benefits come along with Edneed which will help your institute to grow in every aspect.