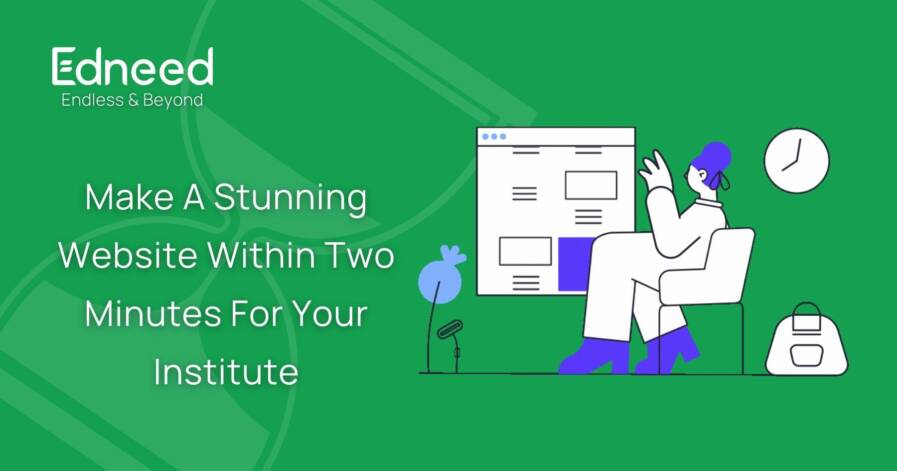 Make A Stunning Website Within 2 Minutes For Your Institute
The first impression is the last impression, and the physical appearance of your institute used to be the first impression on your existing and potential stakeholders. However, in the last few years, due to the penetration of technology into our lives, the website of the institute has taken over the attention of the physical appearance. A lot of heavy tasks that include choosing a domain, selecting a hosting server and then thousands of lines of code come to our minds when we talk about website creation.
Tell us honestly, how would it feel if we asked you to create the website within 2 minutes for your institute? Sounds impossible, right? But with Edneed it is possible. Just enter your desired domain name, check its availability, fill up a bit of information, do the payment, and you are all set. You can try it out by yourself. Mark our words, it won't take more than 2 minutes. And the best part is you don't need to do even a single line of coding.
We are holding up the rest for later but first, let's have a look at the steps you're going to follow for the website creation with Edneed. First thing first, visit www.edneed.com.
You will land on the main page of Edneed. There you will see a number of options, see the image below.
Enter your desired domain name and click on check availability.
From the newly opened window, select the domain you want, and if the domain is not available, select the available one.
Fill up all the necessary details and click on continue.
Click on "proceed to checkout" button to make the payment and save your domain.
When you book your domain with Edneed, a little surprise comes along with it. You will get a free sub-domain from us.
After a successful purchase, you will receive an email from us to verify your account. After verification, click on the login button and enter the required credentials to log in to the account.
Once you log in, you will be asked to fill up details in the website related to your institute, i.e, logo, mission vision, home banner, etc.
Fill up all the necessary details and click on the "Publish Website" button at the end of the page.
Congrats, your institute's website is live now. And we can bet, you have created the website within 2 minutes.
Since your institute's website is live now. When you log in, you will be able to see on the admin panel for website management. You can add, edit or remove any information available on the website.
This panel provides authority to the admin over the website.
To get a complete overview of using the product, please refer to our user manual from the menu tab, or click here: User Manual
Other Products from Edneed
The Learning Management System
It is a software that not only manages day-to-day tasks but also helps in conducting online classes, assignments, and also taking online tests for a complete evaluation of students' progress throughout the year.
Edneed LMS is equipped with attendance tracking, grading assignments as well as the online tests, and many other important features that will help an institute for a seamless learning experience. We have developed our learning management system in a way that both the teachers and students don't have to do many technical tasks that will help in making learning more productive.
We have created a chain of blogs to help you guide through our product. You can check them to use the LMS in a better manner. You can check them below:
1. How to Create and Grade Assignments to Edneed LMS
2. How To Add Faculty of Your Institution to Edneed LMS
Edneed Learning Community
We live in an era where technology has impacted our lives so much that being online has become our habit. And there's nothing better than a platform where you can build a network as well as gain and share knowledge. This platform is completely free for everyone. One just needs to create their profile and start their journey with the Edneed learning community. This platform also encourages the idea of microlearning.
Conclusion
We know the importance of having a digital presence for an institute. Though, creating a website gets a bit hectic and also heavy on the pocket sometimes. However, with Edneed you can create a dynamic website within 2 minutes for your institute without spending a lot of money on developers. And when you choose Edneed, you get a number of benefits that will not just help your institute in growing but also make learning more seamless and effective.