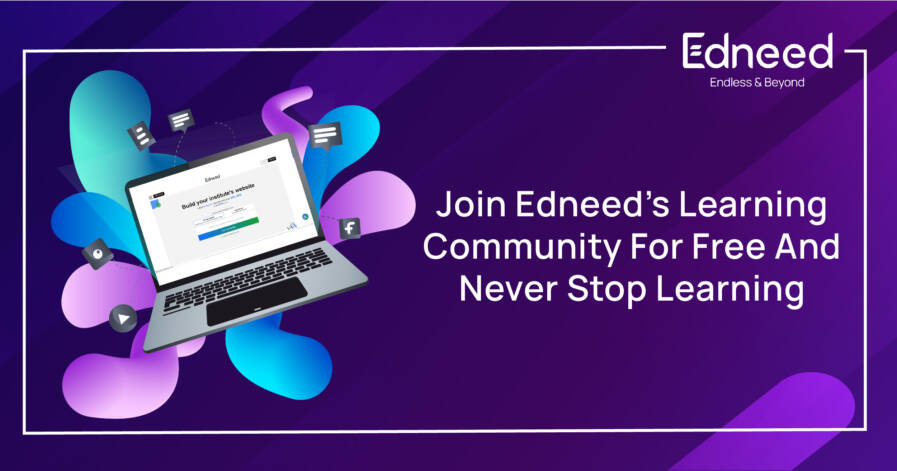 Join Edneed's Learning Community For Free And Never Stop Learning
Overview
Continuous learning is the minimum requirement for success in any field. Learning is a process that goes on life-long. Almost no sector in modern society has remained untouched as technology has penetrated into our daily lives beyond expectations, and the education sector is no different.
The learning landscape has witnessed a lot of changes in recent years. Technology has affected the way we used to learn within our traditional classroom in the most positive way. Then, in the last two years, the whole learning paradigm has shifted to a completely new mode. 
However, learning is not just limited to those four walls of traditional classrooms. It has expanded to almost every available area.
Global Learning
With the increasing use of the Internet, the phenomenon of global learning has emerged. Despite the fact that global learning has been defined differently, it has the core intention of gaining and sharing knowledge across the globe. Students benefit from it as they integrate multiple disciplinary perspectives, enhance their critical thinking, embrace diversity, and become self-aware too. 
When learning is no longer restricted to classrooms, anyone can gather knowledge from any source, be it videos, audiobooks, or pdf books if they are connected to the internet. It should come as no surprise that internet learning has become one of the most widely used methods of learning. We had never anticipated social media would play such a big role in facilitating this process.
The information you can find on the internet is much more easily accessible, saves a lot of time, and is usually free. A review of current scenarios can help us understand global learning as an effective method of education.
Microlearning
Schools and colleges are considering microlearning as an increasingly popular educational trend. In an eLearning environment, the term microlearning often comes up. Among the main characteristics of Microlearning is that it uses concise, short-term learning activities and units to deliver learning material quickly. 
It is a method of skill-based education that consists of bite-sized learning along with traditional e-learning. Micro-learning is a fresh take on traditional education. Learners will gain a deeper understanding of the course material, have a higher level of engagement, and retain more information with microlearning.
We can create interactive microlearning experiences in 2021 using technologies such as virtual reality and augmented reality, which combines visual and auditory stimulation. Microlearning videos are an easily recognizable form of learning.
Edneed Learning Community
Edneed Learning Community is a free knowledge-sharing platform for learners and educators. All you have to do is to register yourself on the community platform.
How to Join the Edneed Learning Community
Are you trying to join the learning community but not sure where to start with? Well, we are here to save your time and energy by guiding for account creation and starting your learning journey with Edneed. You can sign up as an institute admin, a teacher, a student, or even as a normal user.
To create your account for the learning community: visit https://edneed.com/community
From there, click on the "sign up" button.
Choose your role from the given options, i.e Institute owner, Teacher, Student, or other.
If you're somehow already affiliated with Edneed with the given first 3 roles. Then you can use the existing credential to log in to the platform.
If not, choose others, fill in the required details, and hit the "Agree & Sign Up" button.
As soon as you hit the button, you will land on this Community Dashboard window.
From the last section, you can discover the community page.
Apart from that, if you want to manage your profile or want to make some changes to the account; you can click on the profile icon on the top right corner.
When you click on the Discover Community button, you will be redirected to the community page.
On this page, you can write your question with or without an image and then click on the "Ask Community" button.
Your question will be listed there.
Then any person can answer the question.
For more information regarding the account part, please refer to this link: https://edneed.com/user-manual
How It Helps in Continuous Learning
As we told you, learning is an endless process. As we all are connected with each other, information sharing has become easier now. Edneed Learning Community helps you in making your online presence. Once you are on this platform, you can build and expand your pedagogical network by connecting with educators and learners across the globe.
As the idea behind this platform is to share and gain knowledge, the Learning community also goes along with Global learning and Microlearning. With Edneed's community platform microlearning is facilitated via small chunks of instant information and single chunks of information. A student from anywhere in the world can ask a question on Edneed's global learning community that can be answered by any educator from across the world. In addition to making education more accessible, it also allows global learning ideas to be combined.
Conclusion
Our world has become a global village now. That means that almost everyone is accessible with just a few mouse clicks away. Technology is changing how we work, so new skills emerge and are obsolete in a few years. To stay ahead of the competition, you'll need a model that involves constant learning. With a few clicks, anyone can create a free account on Edneed and start asking questions or answering questions already asked. Edneed is an open community platform for sharing knowledge.