Educational Institutions are Facing These Challenges Right Now
Overview
The education sector is experiencing a surging level of competition. Managing educational institutions and coordinating departments is becoming increasingly difficult. There are 41,901 colleges and 993 universities in India, and the region's higher education enrollment rate is 25.8%, according to a recent report from IBEF. The above stats are surely going to increase in the near future. However, handling the challenges ahead by higher education management is a big question.
Challenges Faced by Educational Institutes
Institutions face numerous challenges in a variety of areas in the education sector, even as it grows. Here, we are going to discuss the challenges in education management and how the Edneed education management system helps to overcome them.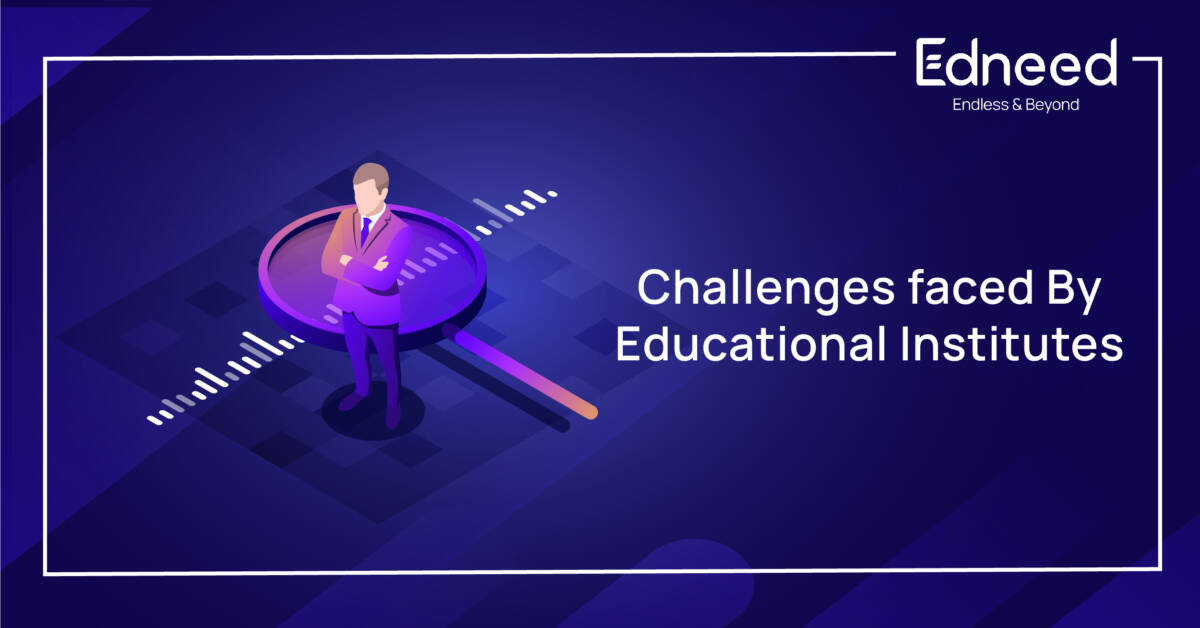 Management for the Institutes
One of the major challenges faced by educators is maintaining never-ending records of students and other administrative tasks. Such tasks are not just time-taking but also tire them out. It is not unheard of that teachers mostly get engaged in the admin stuff, it eventually ends up impacting students' performance.
Educationalists are primarily responsible for ensuring institutional development as well as effective, productive, and results-oriented teaching. But, due to the manual day-to-day tasks, there is no time or enthusiasm to think creatively or innovate for teachers & staff due to excessive workloads.
With Edneed Education Management System admin can handle tedious tasks such as admission & enrollment management, course & program registration, timetable, attendance log, syllabus management, examination management, etc easily. This will enable teachers to focus their valuable time on education and save a great deal of time.
Online Classes
The Edneed education management system provides a complete solution for institutions. Created to meet all the requirements of education management, it is integrated with all of the major software like Zoom and Google Meet platforms to conduct seamless Online Classes. Also, its digital tools for academic management make it simple and convenient.
Academic Success & Retention of Students
As there are so many educational institutions out there, it is essential to keep the reputation of the institute and meet the expectations of students. The generation of millennials prefers to only choose the best and do not compromise on performance.
Institutions often rely upon multiple software systems to manage administrative operations and maintain student retention; this, however, is not feasible in the long run.
Edneed offers cutting-edge technology and multiple integrations, so the institute can get all of the essential digital tools under one roof and create a smoother and faster information flow for the entire staff, teachers, and students. This eventually contributes to increased student performance and the growth of the institute.
Data Security for Students and Institutions
With the advent of the digital revolution, there are numerous data-related threats, i.e
Lack of awareness of the vulnerability of data loss
Virus Attack
Hacking
Considering the importance of research papers, patents, etc., higher education is more susceptible to these types of threats. It is imperative that universities assure the security and safety of all their data.
In contrast to traditional hardware systems, Edneed is a cloud-based solution that gives unlimited flexibility. Data is encrypted with high security, making it impossible to access without authentication credentials, making it more secure. Also, if an issue arises, there is 24X7 technical support available with Edneed.
Communication Between Parents and Teachers
Despite being full-time working professionals, parents today want to be involved in their child's academic activities. It is a known fact that students do better if the student-teacher-parent relationship is maintained. However, most parents don't have the time to visit the school often to stay updated.
Edneed is a platform that is developed to make it easier for everyone to check their respective information as and when needed. Also with email notifications, parents get prompt updates about their children's academic progress or any other important information.
Cost-Effective
Education has become much more focused on providing excellent education as well as providing quality academic management. However, this does not disguise the fact that the quality and credibility of an institute is not only determined by its staff, but also by its finances.
Edneed helps institutes manage their costs effectively by minimizing stationery, paper and printing costs, and other expenses. An investment in the Edneed education management system helps in generating high ROI not immediately but certainly.
Don't Miss the Best Part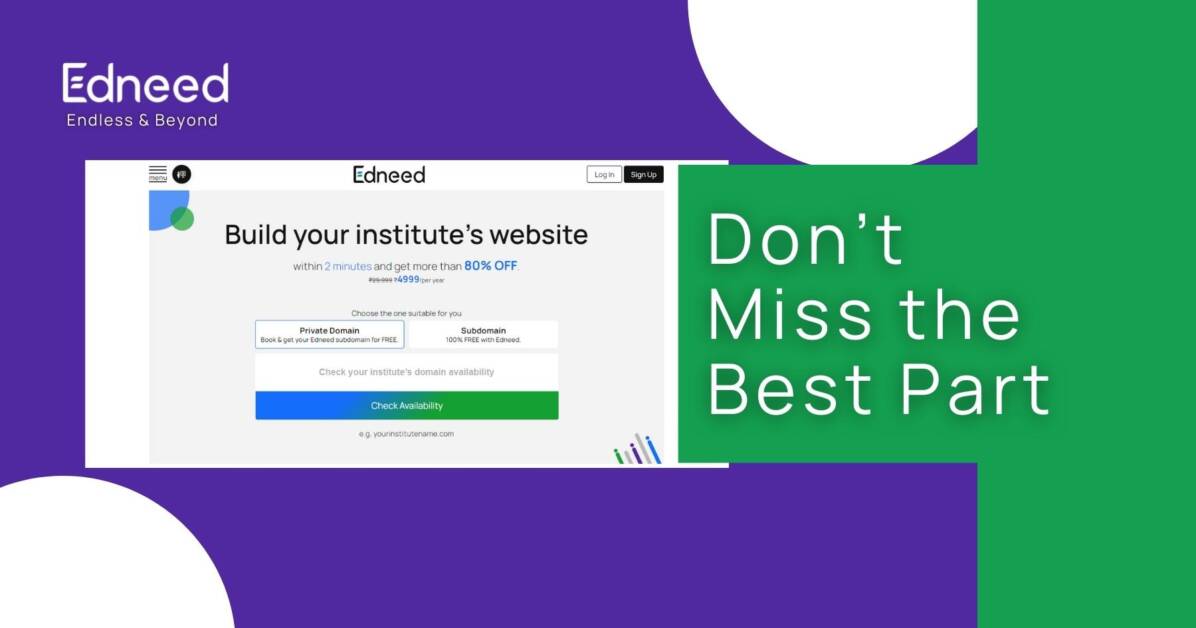 Surprises have not ended yet, there is much more to discover with Edneed. Apart from the education management system, Edneed offers institutes to make their online presence by creating a website.
The Edneed learning community is the cherry on the top. It not just allows people to ask questions on the platform but also helps educators and learners in building and expanding their educational network for free.
Conclusion
We understand the hurdles of shifting to online mode for all the activities. This is why Edneed is developed in such a way that eases up all the institute's management as well as academic-related tasks. Making the teaching and learning process seamless is everything Edneed is all about.