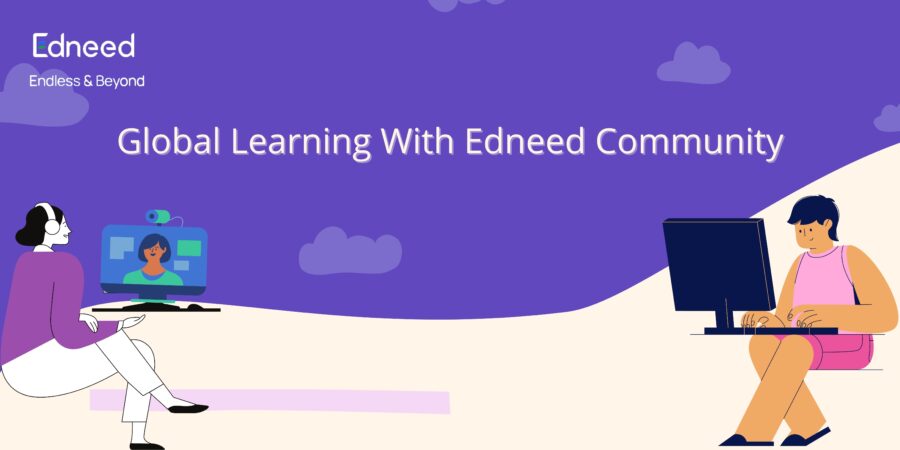 Global Learning with Edneed Community
Overview: A phenomenon has come into existence with the increased use of the Internet. The changing scenarios of use of the internet have made most of us global citizens, by converting the world into a global village and making it more interconnected.
Using the internet as a mode of learning is something we all used to do without even realizing its compulsion in the future. We have never thought that social media would play an important role in this learning process. Most of us use social media to chat with our friends and share memes, etc., we have never thought it has quality content posted, but we have seen many users posting quality content on their profiles and pages as well in a desire to share their wisdom. People who are keen to gain knowledge can easily benefit from it.
Also, the current situation which is happening in the education sector has changed the way we learn. People have become more interconnected these days, and depend more upon the information available on the internet rather than referring to offline materials, libraries, etc. The information available on the internet is much more accessible, saves a lot of time, and is mostly free of cost.
These materials also have the flexibility of mediums such as PDFs, audiobooks, and video formats, which are available for the same content. PDFs, audiobooks, and video formats are there because different people have different ways of consuming information to learn efficiently.
During the crucial time, when the traditional model of learning was shut down, Universities and schools both have moved to online learning platforms and have given importance to the online mode of learning. Schools used to depend on their chalk-talk way of educating. Yet, they choose the online mode to provide the best quality education.
Global learning: The concept of global learning has many definitions and with a common crux that says to share knowledge across the globe. This phenomenon helps learners to gain knowledge from all across the world.
It helps students in integrating multiple disciplinary perspectives, enhance their critical thinking, and embrace diversity and become self-aware as well. When knowledge is not limited to just classrooms, people gather it from any source be it videos, audiobooks, or pdf books. People just use their internet-connected devices and get the knowledge. When institutes have opted for online mode, students and teachers both were very new to this process of online educational technology. Yet, they were trying their best to get used to it.
Global learning with Edneed: We live in a global village now. By global village, we mean, being connected to almost everyone in the distance of a few clicks. Almost half of the world's population uses social media sites. That makes all of us global citizens. We share information among ourselves within seconds. On the internet, we can easily find blogs, informational videos, articles etc. to gain knowledge. Being a global citizen means engaging effectively with diverse people, exploring places, events and opportunities. Taking global learning a step further.
Edneed Learning Community: We are promoting the idea of knowledge sharing. Edneed believes "the more knowledge we share the more it grows". To make this thought a reality, the Edneed learning community has features where the users can ask questions, share ideas and get benefits from each other's experiences.
The possibilities of Edneed's learning community are endless. Any student from anywhere in the world can put up his or her question on a community page that can be answered by any educator across the globe. This not only makes education accessible but also facilitates the intermingling of global ideas.
Conclusion: Global learning needs to be considered as an effective way of learning, we can understand it by reviewing current scenarios. When the traditional mode of teaching is almost replaced by the online mode, there were so many debates on the rise of online learning.
The learning community on Edneed is an open platform to gain and share knowledge. Anyone who seeks knowledge can create an account within a few clicks and ask questions or answer the questions that are already there. Enhancing your knowledge can never be a bad idea. And through global learning, you can connect to people around the globe to share knowledge. We at the Edneed learning community promote cultural collaborations and bring the world closer by connecting more and more people to this global village.