Education Management Software And Important Gadgets For Online Teaching
Overview
Since we are now all teaching online, it is a completely different environment from our traditional classrooms. No chairs, benches, textbooks, or blackboards. In one way or another, we have all become more familiar with online teaching methods and started to use tools for online instruction more effectively. The majority of schools and colleges that remain closed have taken on the challenge of online teaching, which although difficult but not impossible. Teachers must keep up with the pace of the world since it is moving so fast. Managing teaching and learning can be a daunting task, but with Edneed Education Management Software, it becomes effortless.
Education Management Software
The day-to-day academic and administrative activities of academic and administrative institutions all around the world rely on software management systems to provide effective and efficient learning. Maintaining these records and managing activities such as these is a challenging task. It requires a lot of time and manpower. Here Education Management Software plays an important role. Edneed offers schools the best E-Learning Software that is rich in features. Schools are seeking software that is cost-effective, offers many benefits to their institute, and offers high levels of flexibility.
Here are some key features that you can utilize to help your institute and students achieve better outcomes.
Online Classes and Attendance Tracking
An educational institution's main concern when shifting to a digital platform is how classes are going to be conducted. With Edneed EMS teachers can schedule the class and share the link with a single click to every student over via email. Our platform also offers tracking of attendance during the class. It will be beneficial for both teachers and students.
Online Assignments and Tests
With the support of online classes, such software also provides the ability to give assignments and take online tests. We offer online tests with multiple restriction modes to make them fair designed to let teachers and students assess them easily and pass or fail them as required. Students can easily complete tests and assignments, if required, they can also request grace time.
It is one of the advantages of Management Software to be able to provide unlimited content. Students can read chapters at any time and anywhere. When students get to learn at their own pace they can remember the chapters in a better manner.
Important Gadgets for Online Teaching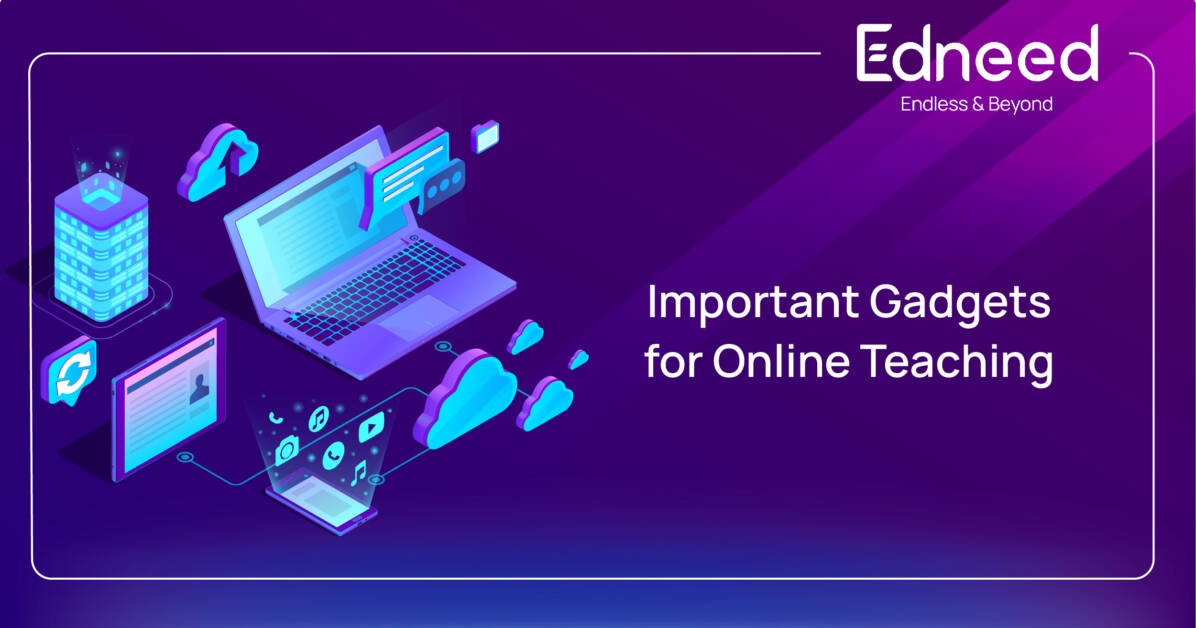 Institutions need to move online, or else they will be left behind in the modern world. With the right tools, making the transition is incredibly easy and we've got you covered. Here are some important gadgets you must have while teaching online.
A Stable Internet Connection
An uninterrupted and strong Internet connection is essential to taking online classes. If your internet connection is strong and stable, your courses will not be interrupted. It won't affect the whole class if one student has a poor internet connection. Students can refer to notes and catch up. Unfortunately, if your internet connection isn't strong enough as a teacher, all your students will suffer. In order to teach online, you need a router. This device will not only improve your connection to the internet but will also improve the video quality of your lectures.
Edneed EMS offers teachers the option of teaching online or recording lectures. These lectures can then be uploaded to Edneed EMS's study content. A tripod is necessary if you plan to record videos or if you want to take live online classes. A tripod will give you a fixed setup that will make it easier to handle your phone or camera. Gorilla Tripod is an investment that will provide you with high returns since it is made of quality materials, not plastic. It also has flexible legs, which can be bent at 24 different points and can be wrapped around anything and placed on uneven surfaces. With a tripod, you won't have to worry about it once you've set it up, so it is great for live lectures online.
The most important thing when teaching online is for students to see and hear you clearly. A good microphone and headset are necessary tools when teaching online. Investing in getting wireless headphones and microphones for online classes is very necessary. As for the webcam, if you are using a computer or laptop for your online teaching sessions then this might come in handy. While a mobile phone, it might not be that necessary for you as most phones have a good front camera.
Conclusion
It is important to get the best online teaching gadgets that are not too expensive but effective. For the best Education Management Software in India, Edneed is the best choice because it is affordable and effective. The ability to teach from our homes is great. We hope you will find the software and devices useful and appreciate the benefits they provide.