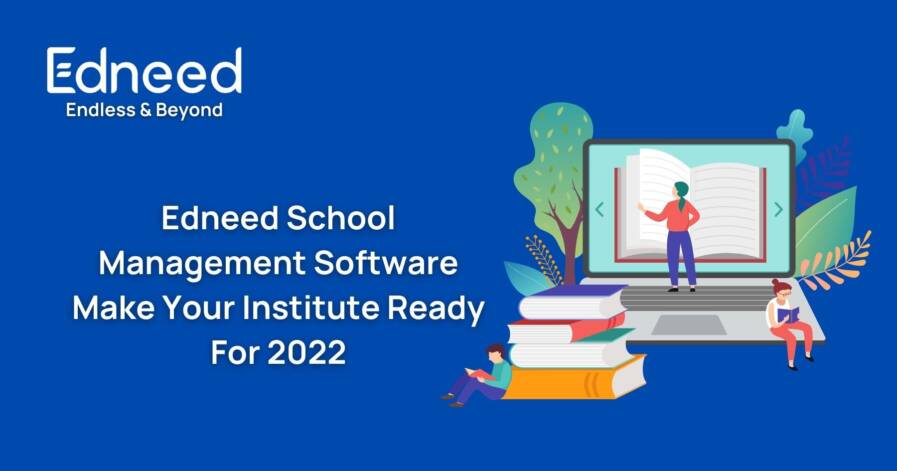 Edneed School Management Software: Make Your Institute Ready For 2022
Overview
The educational paradigm has somewhat partially or fully shifted to the online mode with technological advancements. One of the most prominent examples of this change is that traditional classrooms have been replaced with online classes. Also, the phenomenon of online tests has been observed by students all over the world. The School Management Software made it possible for all of these activities to be done online.
Schools have been using a wide range of various tools and applications since COVID-19, including management software, online learning programs, language apps, and video communication tools. And, Edneed SMS is the one that schools must opt for in order to make themselves ready for the year 2022.
School Management Software
Management software is an array of tools that streamline and improve the efficiency of managing a school's administrative processes. With this software, you can automate and control every aspect of the functioning of an educational institution, including its infrastructure, activities, processes, and overall functioning. Additionally, it provides a unified platform to facilitate effective collaboration and communication among school administrators and other stakeholders.
Such management software can increase productivity by reducing the time required to keep track of data and improving the accuracy of the information. With the best school administration software such as Edneed, organizations can also save enormous amounts of money on institutional resources and maintain their data securely within digital storage.
Edneed's SMS Features
Edneed school management software offers comprehensive tools and features for managing an educational institution. Institutions can use Edneed's complete digital solution to enable the full potential of online learning for their students.
Here are the key functions of Edneed SMS:
Online Classes
With the growing popularity of online classes, they're not just about redefining distance learning and making education more accessible. Students can access all of them through a virtual portal, which gives them access to reading materials, to interact with their teachers and classmates, to view their grades, and to track their progress over the year.
What makes online classes unique?
Having online classes conducted both live and recorded means students can learn at their own pace. Also, since the classes are conducted in both live and recorded manner, students can still learn at their own pace.
College is expensive because as well as the tuition, you need to pay for dorm rooms, cafeteria meals, extracurricular activities, massive textbooks, etc.
Maintaining self-discipline
Online classes differ from traditional classes in one key respect: self-discipline. Since you take online classes, you develop more discipline, which translates into other aspects of your life, such as work ethic.
Online Assignments
Online tests should not be the only way to evaluate students' development for each chapter. It is necessary to keep checking on their progress at least once a year. The assignment option is the second option on the teacher's dashboard in Edneed SMS. This is why assignments are so crucial in assessing students. The teacher can assign assignments for their chosen classroom based on their subject and topic. Assignments may take any form, such as images, texts, or video links.
Online Tests
There are two main components to any institute: classes and tests. First, institutions offered online classes, then they held tests online as well. Online classes were advantageous and necessary when it came to the evaluation of students' progress. Despite the benefits, there were also some limitations in conducting online tests without proper tools and preparation. Since even the teachers wanting to conduct small quizzes and other activities had to follow the same protocol. There was also the possibility that students might use unfair means during the tests, which is why Edneed developed its online test feature with the appropriate solutions.
It allows teachers to schedule tests anytime at their convenience, notifying students in a click and setting the difficulty level for the tests. These restrictions allow for an objective evaluation of the candidates.
Study Material
There are many benefits to switching to an online mode for education. Schools that make the switch gain access to countless possibilities. Management software allows students to create study materials that are tailored to each class and subject, so they can learn anytime, anywhere, and at their own pace. When students can learn at their own pace, they retain more information.
Conclusion
In offering one-stop digital solutions to educational institutions, we strive to address their concerns. As an institute owner, you will find that Edneed's school management software is extremely resource-efficient, and it has been designed with features that are helpful for educators in this time of increased digitalization. With Edneed, institutes will be able to access so many features that will be beneficial in the year 2022.