Perform SWOT Analysis in Teaching for Better Results
Overview
Teachers can use SWOT analysis in teaching and learning to monitor the progress of each of their students. The best way to conduct a SWOT analysis is to allow diverse groups in the class to provide real data points instead of prescriptive statements. A subject teacher, for example, can evaluate a student's performance using a SWOT analysis when all the teachers sit down together during a class period and discuss what each student's strengths and weaknesses are.
Using SWOT analysis, teachers and professors can gain a better understanding of their subject students and assist them to improve. Let's have a look at each aspect of it.
Strength
Students are given strengths in the strengths section where they describe what they are good at and how they do well. Consider the student's interests or the areas where the student has done well in every subject to identify his or her strengths. Curriculum or leadership may be strengths, or their relationships with all the other teachers or classmates may be strengths, or their manner of interacting with a class might satisfy these criteria.
Weakness
There are always things that students need to improve on, in order to reach the overall desired goal or mission. Students' weaknesses in particular subjects or areas of interest can keep them from achieving the overall goal or mission. There are certain weaknesses that can not be improved for every student. Therefore, you should consider what all weaknesses the student has as some of them should be improved. Understanding your very specific weaknesses will enable you to work and refine the areas where your efforts need to be focused. You will have the opportunity to answer questions such as 'what special points should be improved for each student in the class', and 'what should be avoided for that particular student'.
Opportunities
The opportunities that exist outside can help your student to achieve his or her goal or mission in a positive manner. Your students can take advantage of the outside factors and opportunities while pursuing their desired goal. When you've been providing your student with more practice materials and he or she is weak in physics, you may be able to help the student participate in an upcoming physics Olympiad. In analyzing the trends, he or she will be able to identify opportunities. By learning more about the subject, he or she can build more confidence. Consider all of the competitions and activities your students can participate in outside of your classroom, in order to boost their confidence in the practical world. 
Threats
What obstacles do you think your students might be facing? Threats can be defined as anything that might cause them to encounter obstacles. Are they hampered by any personal issues hindering their learning process? Do they have a distraction that is interfering with their concentration? Analyze your students' state of mind and ask yourself if there is something bothering them.
You can easily recognize your students' strengths, weaknesses, and key opportunities and threats by implementing the SWOT analysis method in the classroom. You can easily determine what factors can affect their performance and process in class.
Edneed's School Management System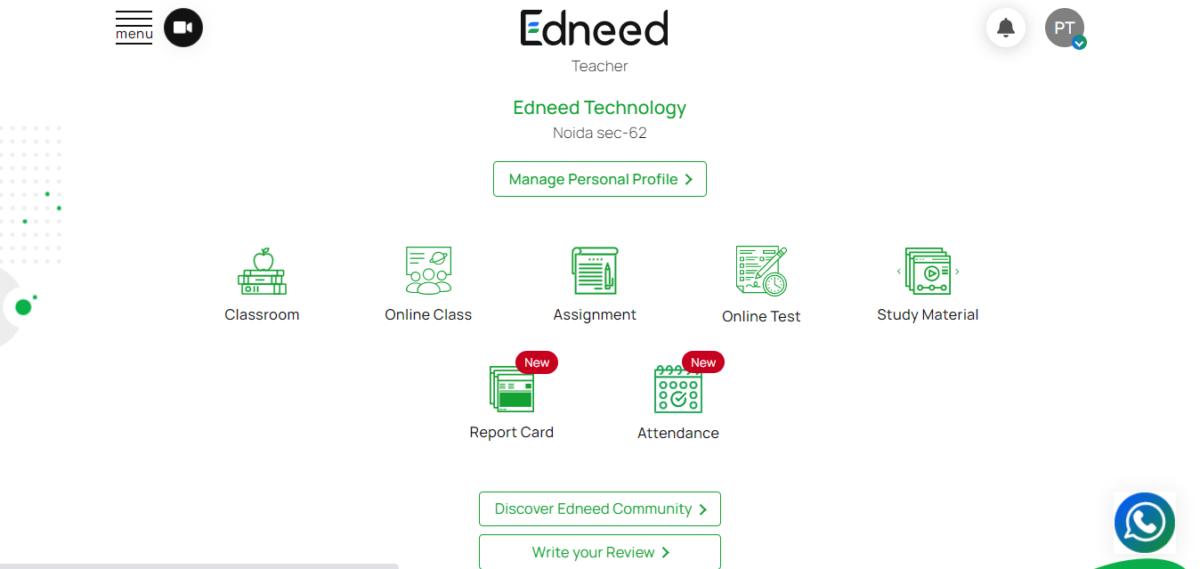 As scenarios have vastly changed in recent years, online learning has emerged as an effective phenomenon. Whether we talk about online classes, online tests, or other institution-level administrative work, school management systems like Edneed are supporting the idea of it. And, in online learning, the need for SWOT analysis becomes more relevant as students and teachers aren't interacting face to face. 
Teachers can use this method and find a solution related to the problems faced by the students. Edneed as a school management system, not just only provides management solutions to the schools but also works as a solution for weaknesses and threats. For instance, if any school is using online mode to impart education, and a student has a weak internet connection, that poses a threat and Edneed resolves such threat as it is developed to work with low internet connections as well. Also, if a student is weak in understanding any chapter or subject, teachers can use Edneed's study material feature to upload the complete syllabus. From there the student can take help and get a better understanding of that chapter or subject. 
Conclusion
Teachers can use the SWOT technique to evaluate the strategic position of their institutions as an aid in the early stages of decision-making processes. And Edneed SMS more or less gives a helping hand as a solution to the flaws that come to light after analysis. We hope that this article will help you to keep track of your student's performance. Stay tuned for more articles like this.