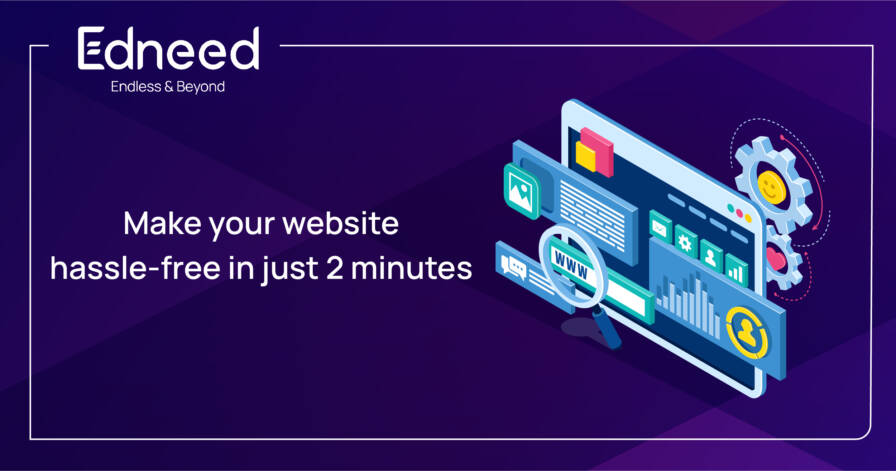 Make your website hassle-free in just 2 minutes
Overview
A website is the first thing any person notices for an institute. Ever since the paradigm has started shifting to online mode, the importance of a website has also risen. We understand that you might have to go through a lot of hassles while creating a website for your institute. Several heavy tasks are associated with the process of choosing a domain, selecting a hosting server, and then writing thousands of lines of code. However, Edneed gives the ability to make your website hassle-free in just 2 minutes.
It's long, exhausting, and time-consuming to build a website from scratch for your institute. We make that process simple for you. To get started, you simply need to enter the domain name, verify its availability, provide some information, and pay. Give it a try for yourself. Best of all, you do not have to write a single line of code.
Importance of a Website for Your Institute
Prior to the pandemic, the global education technology industry had already experienced high growth and adoption. Despite the sudden shift away from the classrooms in many parts of the world, some believe online learning will continue to prevail post-pandemic and how much this change will impact the global educational sector.
In addition to the increase in costs that colleges and universities face, a great website can provide solutions to a number of other challenges. College lease costs will increase, which will lead to increasing pressure to optimize operational efficiency in order to keep them low. Among other advantages, the website provides better service, greater functionality, faster release cycles, and lowered costs. It also plays a key role in the enrolment of international students.
Why an Institute needs a Website
There are a few reasons why institutes need websites, whether they are dynamic or static.
Effective Online Presence
Websites have a positive effect on the reputation of an institute.
Easy to communicate with students
You may wish to consider building a website for the online presence of your institute. This will help your students as well as other potential stakeholders to be updated.
Real-time information and updates
Web portals allow administrators to easily update information concerning examinations, results, events, admissions, and many other things.
Increasing student numbers
An easy-to-use website is the most effective way to highlight faculty achievements that will attract more students.
Displaying student life at the University
Students can access information related to their educational journey easily if all information is included in one portal/page. Universities can weave information on their website by setting up a student life section.
Steps to Create a Website with Edneed
When you land on the Edneed home page, you will see a variety of options, as shown below.
To check availability, enter the domain name you want and click the check availability button.
Choose the domain you want from the newly opened window, or pick the one that is available in the domain you want that isn't available.
Click on the Continue button once you have filled out all the details.
Click on the "proceed to checkout" button and make the payment to save your domain.
Our customers can enjoy getting a free subdomain as a surprise when they book their domain with Edneed.
You will receive an email following a successful purchase asking you to verify your account. Once your account has been verified, click the login button and enter the required credentials to log in.
After logging in, you will be asked to fill out information related to your institute on the website, like the logo, mission, vision, home banner, etc of your institute.
You can then click the "Publish Website" button at the bottom of the page to publish your website after filling out all the required details.
The website for your institute is now live. And we're willing to wager that you created it in just 2 minutes.
When logged in, you will see the administration panel for managing your institute's website. You can add, edit or remove any information present on the website. Using this panel, the admin can make changes to the website.
The user manual provides a detailed description of how to use the product, click here: User Manual
Conclusion
An unoptimized college website is significantly riskier and also poses considerable reputation damage. Edneed is a one-stop digital solution for institutions when it comes to providing Zero coding, dynamic, and a hassle-free website in just 2 minutes. We offer a number of features that will benefit your institute not only in terms of growth but also in making learning easier and more efficient.