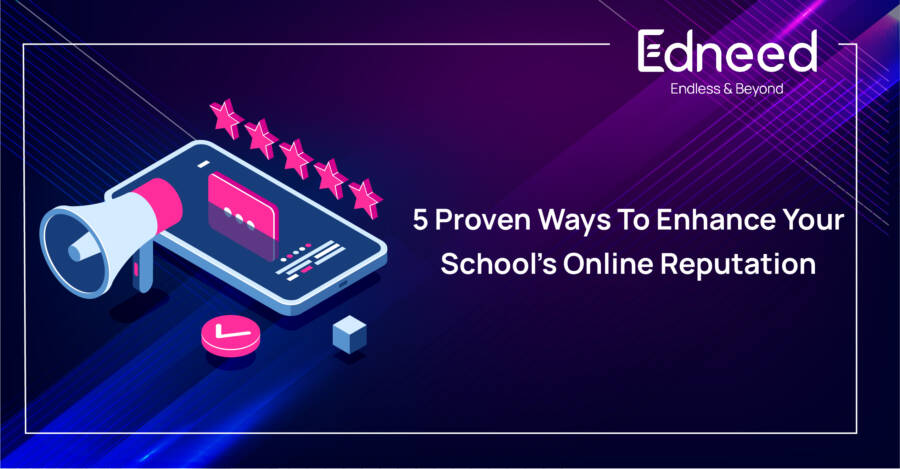 5 Proven Facts To Enhance Your School's Online Reputation
These tactics can help you elevate the reputation of your school
As a school owner, you must want your school to be highly reputed in the city or state. There are plenty of ways to turn your traditional school to have a reputed online presence. Such as having a dynamic website for your school and conducting effective online learning through the Education Management System, making learning possible on the go with Course Builder, always being connected with educators and other learners with the learning community, and an impactful social media presence. Now that you know what exactly you are looking for, Edneed is the solution just to your query.
Let's go through the various verticals Edneed is helping schools to present themselves in the best manner possible.
Website Creation
First, and the most important step for building an online reputation is to have an online presence. So, you must create a website for your school. Now, we need you to forget about any old ways, like writing thousands of lines of codes if you're a tech-savvy person or paying a whopping amount of money to website developers even for a static website. We understand that most of you don't want either of that, this is why Edneed comes to the rescue. Creating a website is so easy and hurdle-free on Edneed. Anyone can simply visit www.edneed.com and check the availability of their desired domain. Fill up the required details and make the payment. And, as we promise, their website will be ready within just 2 minutes.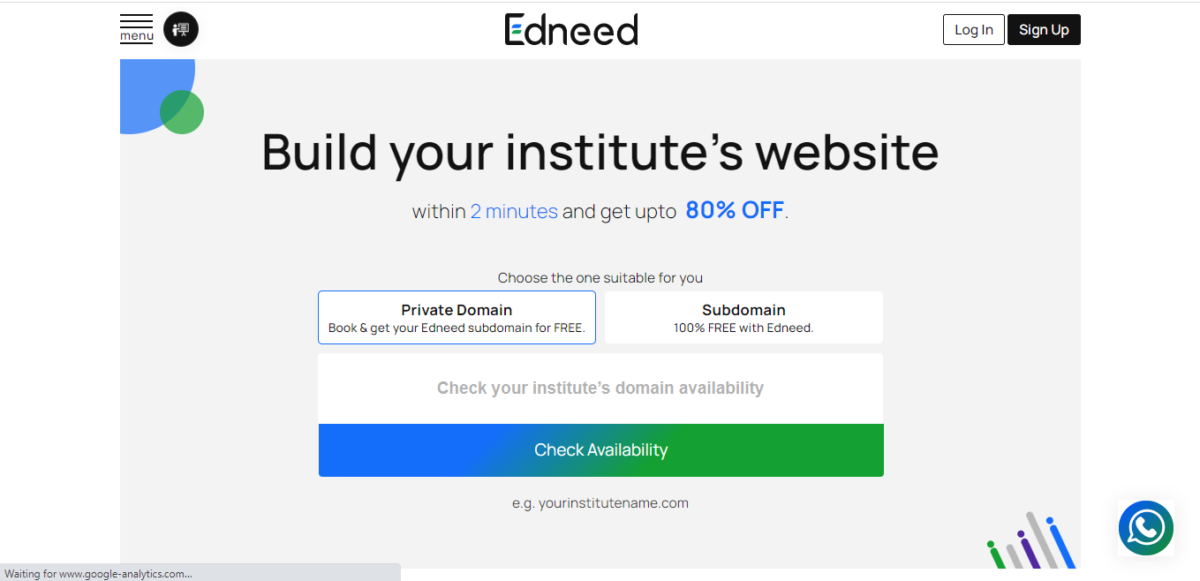 The Tools and solutions we provide let you manage and make changes to the website with ease even if you're not that technical person. You can also check on how to get started with website creation from here: Create Your Own Free Website Within 2 Minutes
Education Management System
It is essential in today's fast-growing world to keep up with the trends, and it is advantageous for educational institutions to show a modern outlook to attract more students and increase their reach. When you use the Education Management System for your school, each stakeholder will profit from it: parents, teachers, students, and administrators. There are plenty of Education Management Systems in the market, but you must look for one that fits your needs. For instance, Edneed is the system that is Tailored For Your Institute.
In our system, school faculties can easily schedule and conduct online classes. Apart from that, we provide support for giving assignments to the students to check their understanding of a chapter. Assignments can be graded on the platform itself. Also, to check the academic process of students throughout the year, our system offers support for conducting online tests. And, to make the evaluation fair, we have 3 different moderation modes. Since our system provides a separate dashboard to every user, it becomes more seamless and hassle-free for them to use the platform.
Course-Builder
Once you have set up the first two modules, you are almost halfway through the journey of having a great online reputation. Now, as a school owner, you undoubtedly want better results from your students and teachers both. Students however sometimes miss the classes that can lead to a great impact on their results. But now as you already opted for the online mode of learning, it's better to go for course-builder tools too. It will simply enable learning on the go mode for your students.
We all know every student has a different style for learning and understanding the subject. Having such tools integrated with the online mode of learning for your school will allow them to learn at their own pace making better retention.
Edneed Learning Community
Students nowadays are way more tech-friendly than any of us. Their imaginations go beyond every limit. This is why they can't be bound in four walls of traditional or just online classrooms for learning. There is always more than one way for better learning. And what could be better than a free platform where students can find educators and learners from across the globe. Edneed with its learning community offers a platform that supports the ideas of microlearning as well as global learning.
Social Media Presence
It is unarguably a smart way to create a positive and reputed image of your school for your existing as well as potential stakeholders. However, if you find it hard to tackle social media for your school, Edneed got your back this time as well. When you opt for Edneed for every other solution, we offer to help your school with our social media experts. You can refer to our homepage www.edneed.com for more information.
Conclusion
We have explained so far how to enhance the reputation of your school. If you're thinking to follow all the steps with various solutions, you will end up tangled. Trust us! However, Edneed is here to provide all the solutions mentioned above under one roof. Because the reputation of your school does matter to Edneed.