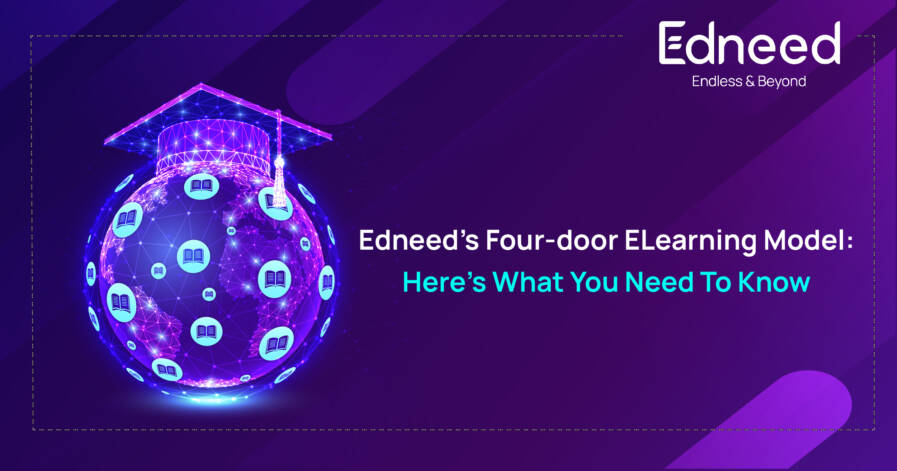 Edneed's Four-door ELearning Model: Here's What You Need To Know
Overview
When it comes to eLearning, numbers and instructional design seem to make sense. Using the four-door design model, learners can control their own learning via an instructional design approach. With this model, eLearning programs address the needs of a large number of different types of learners most quickly and at a low cost. Let's have a look at Edneed's four-door.
Opening up Edneed's eLearning Model
It is important for institutions to determine what deliverables learners must obtain or what activities they must complete before they engage in a four-door program. The design of the eLearning course will then be based on creating or adding content that supports these tasks. Learning objectives could, for instance, include increasing student retention and providing an ongoing learning experience.
Online Classes
As the name suggests, this is where your learners can find the resources they need to grow their knowledge. In the past few decades, the Internet has developed into the largest and most accessible source of information, changing how people communicate, shop, socialize, conduct business, and acquire knowledge and skills. As online classes grow in popularity, they go beyond redefining distance learning and enhancing access to education. These courses are taught via video recordings and live lectures combined with course readings and tests. This is one of four major doors through which students can communicate with their teachers and classmates.
Study Material
This is the second door of Edneed's eLearning model. The study material feature in the Edneed Education Management System is a place where students can find the resources of their syllabus. When their syllabus is available to them, they can learn at their own pace and choice of time. Teachers can add anything from videos, documents, and photos to external links.
Adding the study material for your students can be done by following these few simple steps.
Teachers can simply log in to their profiles.
Once they land on the dashboard section. They need to click on the "Study Material" button.
From the study material window, the teacher need to click on the "Create Material" button.
They will land on the material creation window, After filling up the required details, click on the "Save & Continue" button.
Then from the material section, the teacher will need to enter "Topic title" and "Topic description".
Then, the teacher can upload the material in video, audio or image form. Edneed also offers support of External links.
Once all the material is uploaded, and the teacher hits the "Save & Continue" button, the material will be listed on the study material window. Since it will be available to the students 24X7, it will be beneficial for them.
Online Test and Online Assignments
We understand how important it is for institutes to evaluate their students. And, online test, the third door of Edneed's E-Learning model is making sure that evaluations are being done in a fair manner. Initially, institutions have opted for online classes, and then they have begun holding tests online as well. Students' progress throughout the academic year can be evaluated through online tests. But there are also some drawbacks when they are conducted without the appropriate tools and preparations. Edneed developed an online test feature with relevant solutions to address the possibility of unfair means being used by students during the tests. Students can participate in online tests conducted by teachers. With different options available, the online test will be able to help teachers evaluate students on the right basis.
To conduct the online tests and evaluate the students fairly, Edneed has recently introduced restriction modes. The teacher actually holds control of the online test with this feature.
Talking about the online assignments, Edneed gives support for taking assignments. The assignments can be submitted and graded on the platform itself.
Edneed Learning Community
Imagine if sharing knowledge and connecting with others were possible through the same platform? Then not only would learning be possible, but also get connected with other users. The fourth door of the eLearning model is the learning community. Educators and learners from across the globe can register themselves and connect with each other on this knowledge-sharing platform for free.
With this platform, learning gets social, and everyone can experience boundless learning. Users can grow their educational network by connecting with other educators and learners from around the world.
Learners are given the opportunity to ask open-ended questions, participate in forums, and discuss case studies that cover the more ambiguous aspects of the course. And the knowledge they've obtained so far.
Conclusion
An Education Management System for all the academic as well as administrative tasks to perform, Edneed fits in every role. And, not to mention the learning community that makes sure that learning never stops. With this four-door model of E-Learning, Edneed provides all the digital solutions the institutions need under one roof.