Private Tutors Can Now Enjoy 360-Degree Digital Solutions With Edneed
Overview
At the time when the world was on hold due to the pandemic, the education sector was the one who got affected the most. Schools of all sizes, Universities, and coaching institutes were closed for an indefinite period. Apart from these entities, individual educators like private tutors, yoga, dance, and other teachers were affected too. As everyone was stuck at home, and no activities were in motion, which is why they were away from studies as well.
In such times, Online classes came into the picture as a savior. Though, this option was still limited to students from mostly urban areas of tier 1 cities and a few tier 2 cities of India. However, even in Tier 2 cities, only students of big schools were handy for this new mode of learning. Even the schools of Tier 2 and 3 cities were not having a basic website which is why expecting private tutors and other educators to have an online presence was just too much.
Create A Website For Your Institute In 2 Minutes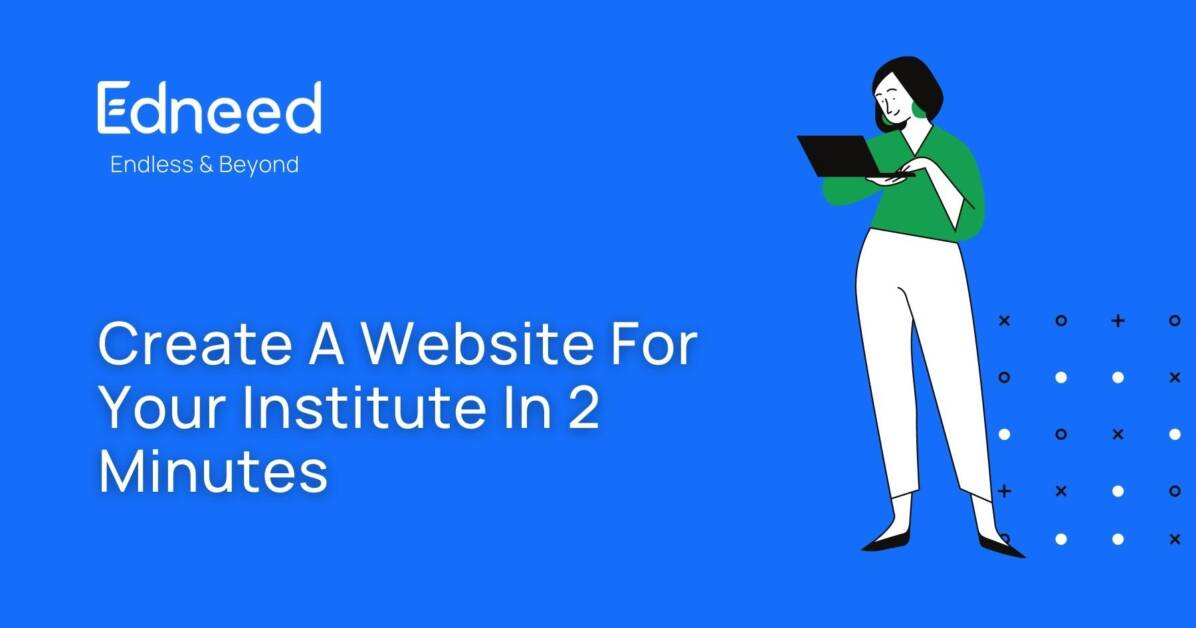 Having an online presence in today's time is a mandatory aspect for every individual providing education. And the very first step of making your online presence is to have a website for your business. Creating a website with any other resource is like climbing up a mountain. But, with Edneed, creating your digital presence is like a walk in the park.
If a person, who gives private classes in graphic designing, wants to have a website for themself with dynamic pages, he/she will need to spend a good amount of money on a website developer and time on it. And also, he/ she will have to hire a person to manage that website and to update things on the website regularly.
Whereas, if he/she chooses to go with Edneed, they can create her dynamic website in just 2 minutes themself without writing even a single line of code. Also, he/she won't need to hire the person just to put on updates on the website. He/she can do all that by themself with the easy-to-use website management panel. 
Edneed provides the best class experience so users can easily make and manage their websites.
Learning Management System
An LMS (Learning Management System) is a software application for modeling, monitoring, tracking, reporting, automating, and delivering educational programs. The learning management system concept emerged directly from e-Learning. We have seen noticeable use of LMS during the Covid-19 scenarios.
In education and higher education markets, learning management systems (LMS) manage a variety of content, including videos, courses, and documents. It usually includes features such as instructor-led instruction, a discussion board, and often a syllabus that are similar to what is provided by corporate LMSs.
With Edneed's learning management system, tutors can easily schedule and conduct online classes for their students. We give support for two different platforms to conduct online classes i.e, Google Meet and Zoom. The educator will need to add all the students to the system by inviting them individually or in bulk. Once every student is registered in the system, the educator can simply schedule the class and notify all the students via email. The private tutor can even track the attendance of every student in the class.
Online assignments
The learning management system of Edneed provides support for creating and receiving assignments on the platform itself. This feature of an LMS gives the educator the ability to test the understanding of a chapter of their students. The educator can even grade the student in the assignment section and also download the data.
Online Test
We all hated class tests, but it is an excellent way to evaluate a student's progress throughout the year. Learning management is incomplete without this feature. Edneed's LMS comes with an online test feature. Educators can conduct online tests with a variety of questions.
Expand Your Network With Edneed's Learning Community
Being an individual educator you need to have digital visibility, a learning management system, and a platform where you can always be connected with your students. The Edneed Learning community is such a platform that is free. All you have to do is just create your profile on the platform and get in touch with your students as well as other educators. On this platform, you can ask questions, give an answer to the question and expand your professional network as well. By joining the Edneed learning community, you can become a part of the expanded educational fraternity.
Conclusion
It is important to have an online presence nowadays for everyone, whether it be an institute or a private tutor. They both also need to have an LMS to manage their day-to-day tasks hassle-free. If they choose any other option to go for their needs, they will end up juggling through multiple apps and websites to manage their chores.
However, Edneed provides all the digital solutions for educators that will help them get their things together under one roof. When they don't have to juggle up to different platforms, the learning process becomes seamless.