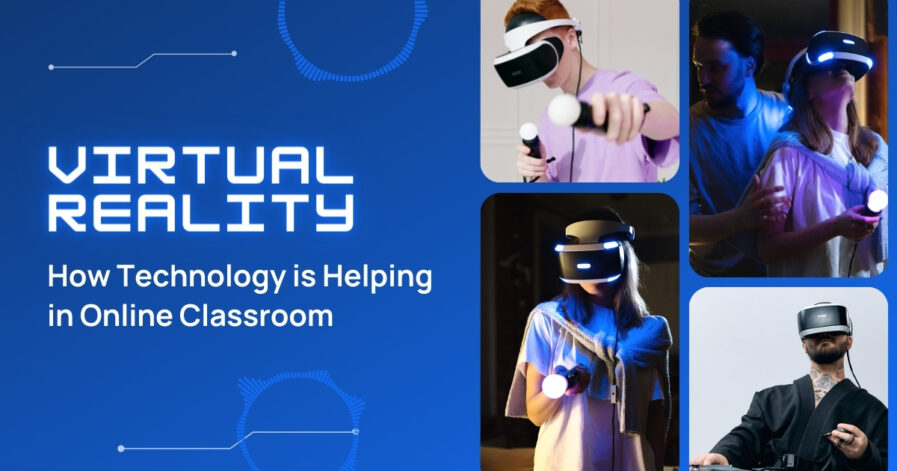 Virtual Reality: How Technology Is Helping In Online Classroom
Virtual Reality
Using computer technology to mimic an environment, virtual reality (VR) creates a simulated experience. As opposed to traditional user interfaces, VR immerses the user within an experience, rather than letting them view a screen in front of them. The term "virtual reality" is simply a way of describing something that is close to real life. It could mean anything but it usually refers to a particular type of reality simulation. Our senses and perceptions help us understand the world around us. As children, we were taught that we have five senses: taste, touch, smell, sight, and hearing, but these are only the most obvious.
Virtual reality usually has these characteristics:
Believable: What you see and hear in your virtual world makes you feel like you're there.
Immersive: As we move our heads, what we see also changes.
Computer-generated: VR worlds are normally created with high-definition 3D graphics that update in real-time as we move.
Interactive: An object in the scene can be manipulated, such as by pressing a button or opening a door.
Online Classes
In a traditional classroom or lecture, you learn by listening to your teacher and talking to classmates. These classes are usually located and scheduled at a certain time and place. With online learning, you can access the same high-quality instruction wherever you are.
Online learning is conducted through the internet, as a series of courses you can access anytime, anywhere. Socializing and asking questions are done through discussion forums or via email. The eLearning industry has seen unprecedented growth because of the increase in demand for online education during the lockdown. This phenomenon is one of the biggest reasons why the eLearning industry has flourished.
For students who are interested in changing their skills or in educating themselves, online learning offers some advantages, the most important of which is the ability to access educational material at any time from anywhere.
There is plenty of positive information about online education with some very obvious advantages. Although online education does have several advantages over traditional classroom education, students are still choosing traditional classes. Reasons for this are:
Lack of accreditation
You need to be self-disciplined
Low retention and completion rates
Require good time-management skills
Online classes do not have the social aspect of regular classes
Teachers and Technology
Teachers not only build knowledge networks and nurture the growth of young learners but they hold the power to decide the future of Education. The world is seeing exponential growth in the technological field that helps the education sector to become better than yesterday. An proficient educator should ideally ferment the passion for learning in the minds of the students, and virtual reality can efficiently help in this change.
VR can play an effective role in helping teachers ignite the desire to learn in their students. When incorporated into the classroom by their teachers, a VR-based learning environment offers students the opportunity to exercise their own imaginations, engage more fully in their learning process, and holds considerable promise for transforming educational practices. It is time for teachers to embrace virtual reality in education and embrace the future.
In a world where learning methods and technologies continue to change, teachers must be willing to rethink their approaches to teaching as technology becomes an integral part of learning. Despite the fact that technologies like VR offer an excellent medium for practicing skills and enacting learning, they require teacher training, support, and other facets of experimentation. Technology can be used to enhance both physical and virtual environments to promote experiential learning, creativity, and innovation. After all, Virtual Reality is a medium that perfectly illustrates the phrase, "Experience is the best teacher."
Virtual Reality: An Extention to Teachers' Ability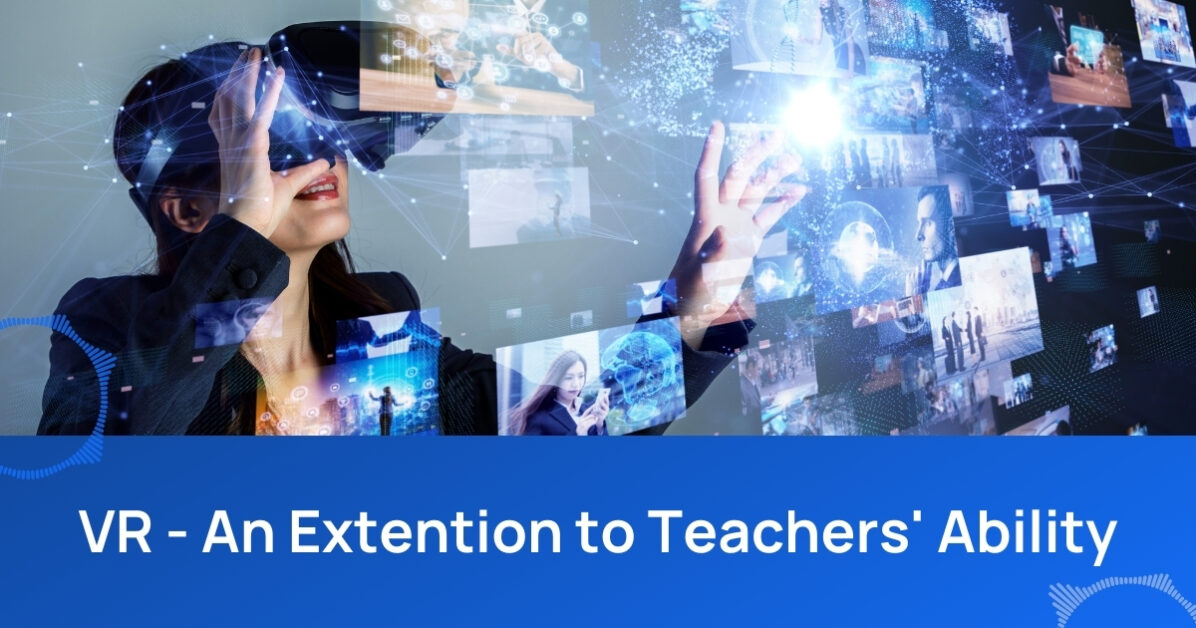 It is essential to have intimate knowledge of the concrete, contemporary realities of educational practices before we can reform, improve, and change education. In other words, while there is a common misconception that immersion in VR can make teachers irrelevant in the classroom, reality tells a different story. With immersive learning in VR, the instructor can perform the role of facilitator, enabling them to spend more time learning about students' learning styles and making necessary changes to the curriculum.
Teacher-determined knowledge disseminating pathways have limitations. Virtual reality enhances the teacher's ability and is by no means a replacement for it. The use of VR in the classroom can be enhanced if we train teachers how to use it, thus equipping them with skills to successfully implement it in a classroom that fits precisely the needs of that classroom. By providing training to the teachers, the rough edges will be smoothed out before they are handed over to students. With the help of teachers, educational technology will make a great impact on educational ecosystems for the better, and students can benefit from the best of what VR has to offer because of your able and informed guidance.
Benefits of VR in Online Learning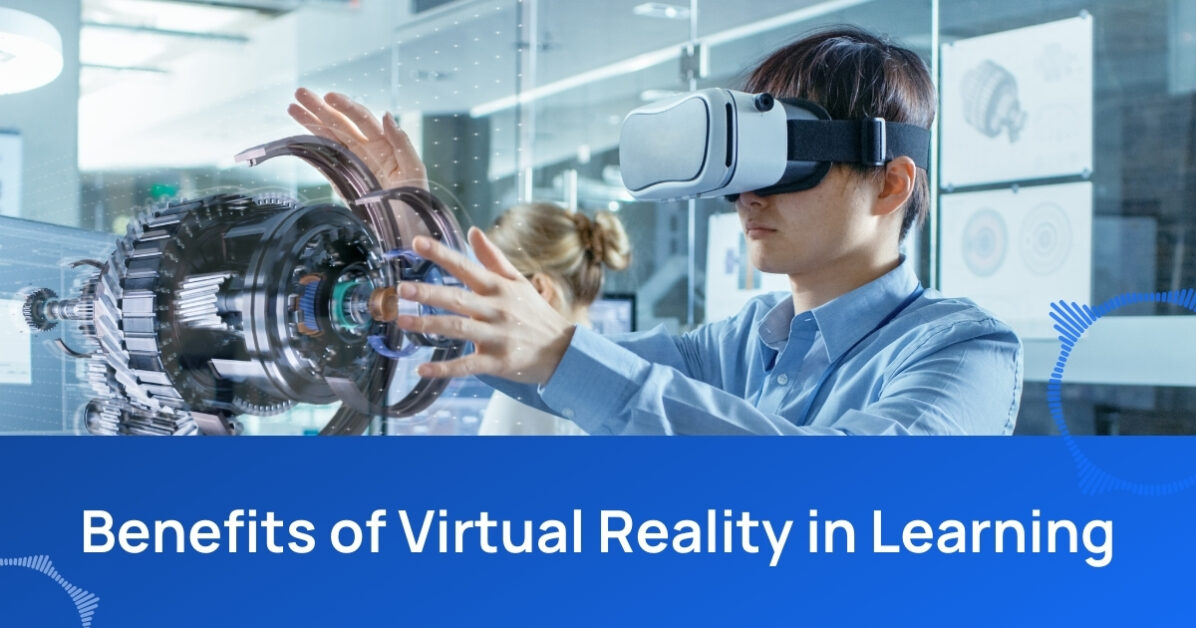 Learning with VR has some of the following benefits:
Accelerates learning: Repetitive learning or learning by rote can be dramatically improved by actually performing or visualizing the learning material. VR learning uses problem-solving, powerful visualization, decision-making, and other elements to enhance the learning experience.
Provides a safe learning environment: While learning, mistakes naturally occur, and using VR simulations allows students to make mistakes in a controlled environment, where they can experiment with different approaches and determine which works best for them.
Bridges the gap between theory and practice: It is not unusual for students to learn textbook theory about a specific topic, but experiencing this theory in an interactive 3D environment makes learning more memorable.
Increases engagement levels: Collaboration with a virtual world can increase the overall engagement with a tangible result, and students can learn from each other.
Assessing complex learning is easie: The learning process can be enhanced by VR simulations, from brain surgery to gravity.
Conclusion
With virtual reality (VR), learning can be taken beyond traditional online courses. It is anticipated that this simulation-based technology will revolutionize how online training courses are delivered with enhanced engagement, retention, and experiential learning benefits.
In recent years, virtual reality systems have entered the mainstream market as many leaders have begun looking at how they can be used as a way to teach. Once such a system has been adopted by teachers worldwide, it will not be long before it makes its way into the classrooms.