Here Are The Best Online Tools For Course Creators
Overview
As the situation changed, online classes have paved the way to becoming a new normal for everyone's lives. It's tough enough to create a high-quality course but affordable and unique is even more challenging. Well, good news for all the course developers: there is a wide selection of online teaching tools available to help you.
There are plenty of tools that can help you with online teaching and course creation.
ZOOM
Most people are familiar with Zoom by now. Zoom has been the fastest-growing video-conferencing app since the year 2016 and has remained consistent throughout. During the pandemic, it gained the most popularity. The platform comes with various price plans.
Zoom comes packed with HD video and audio, instant live messaging, file sharing and multi-screen sharing, etc. It also can be paired with Google calendar and Outlook to sync with your schedules.
The whiteboarding, break-out rooms, and polling functions of Zoom make it a favorite tool for online course creators. With whiteboarding, both the host and participants can annotate and interact just as in a classroom. This option makes learning fun and effective by dividing students into smaller groups for brainstorming and assignments. Lastly, the host can run a live poll during the meeting using the breakout room feature. Those are just a few of the features Zoom offers.
Google Meet
In addition to being reliable and completely free, Google Meet is also one of the most widely used video conferencing apps. However, there are custom pricing options available, but these services cater largely to big businesses. Our Gmail accounts will be used for login, and from there we will be set up.
Meetings can be hosted with up to 100 participants on the free plan. Participants can share screen images, integrate the app with Office and other Google tools, and communicate directly with hosts through live messaging. Students with hearing difficulties may benefit from subtitles so they can follow the discussion. Among the difficulties of introducing a safe environment into online video conferencing apps is the difficulty of making them work. The anti-abuse features in Google Meet help solve this problem rather effectively.
Online learners can also opt to use G Suite for Education, which provides multiple workspace options from Google under one roof, such as Meet, Classroom, and more.
Google Drive
It is hard to find space, either physical or digital. In such a case, one such tool is Google Drive, which allows you to safely store all your documents online for future use. Your files will always be with you despite where you are, so you never have to worry about cramping up your devices.
Not only does it make use of one of the best user interfaces, but it's also compatible with other apps, so it's a must-have. And with its offline mode, you don't need to worry about a stable Internet connection. Easily access your editing history of any file and easily share it with custom links without fear of data leaks.
Canva
Create original visuals without becoming a graphics designer with Canva, an easy-to-use graphic design tool. Using Canva's vast library of templates, you can either begin from scratch or use templates as a guide. Some of the features most highly rated by users include:
Collaboration tools
Drag and drop
Access controls
Customizable branding
Curved text
Trello
TRELLO lets you manage projects and collaborate on them in real-time via private communication channels. Managing projects is simplified through the use of a board and cards system where each project is marked with a board and each task is listed on cards. The app comes with a task tracking system that helps you prioritize tasks and complete them in no time. Participants also receive an automatic email notification whenever a change or update is made to the project.
In the app, one of the most interesting features is the Streamlined Voting System, which allows users to vote on projects and tasks and approve/disapprove right on the spot. The following is a list of some of the app's features:
Drag-and-Drop Editing
Organization with Labeling, Tags, and Comments
File Attachment
Easy Upload (Local Devices, Dropbox, Google Drive, and Box)
Activity Logs
Progress Meter Checklist
Customer Support
The simple interface, easy editing capabilities, and the organization of data on the app make it a favorite of users. All data is saved in organized categories for future use and reference. With Butler (Trello's built-in automation bot), you have all the hassles taken care of. You can also integrate the app with your favorite apps if you think the app is lacking some tools.
Edneed: One-Stop Solution for Your Institute's Needs
The process of searching for appropriate online teaching tools has become very tedious and inefficient. That is why it is better to go for the best learning management system (LMS) which offers almost everything you need under one roof. It will save you both time and money.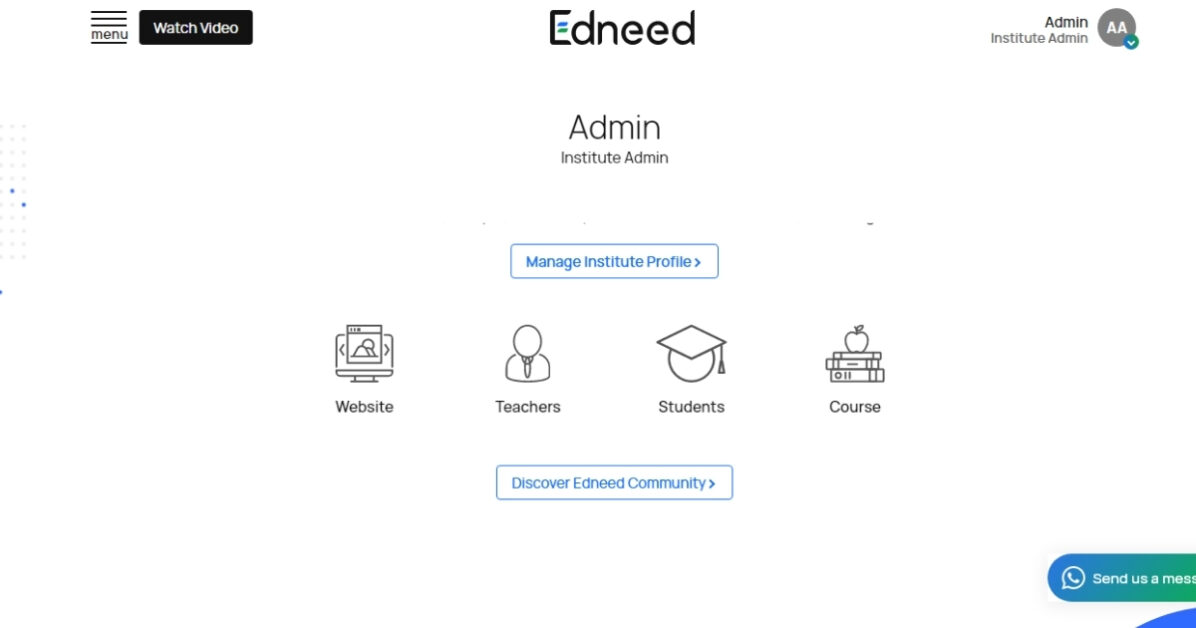 This is where Edneed comes in to save the day. It is a learning management solution that comes integrated with Zoom and Google Meet for hosting seamless online classes. It also helps in creating your online presence by offering a subdomain and private domain as well. Instead of offering separate teaching tools, Edneed offers plenty of options to help online learning go seamlessly.
For instance, if you opt for a subdomain or private domain on Edneed, it will offer a bundle of Website Management and Learning Management System under one roof. Admin can add students and faculty to the Edneed LMS. Teachers can conduct and schedule online classes on both ZOOM and Google Meet, give and receive assignments. The teacher can even grade students for the assignments on the platform itself.
The highlighting feature of Edneed LMS is that teachers can create online tests. Teachers can choose from any 1 or all the pre-existing 4 options to create the test. In this feature, students get the option to ask for grace time if needed.
Edneed makes it manageable for institutions to run their business and not have to worry about looking for the right management tools. For a well-rounded look at what Edneed has to offer, check it out here: Edneed: Website Builder, Learning Management System, And Learning Community, All in One Place – Edneed Blog
Final Words
This blog was intended to give a comprehensive overview of some of the best online teaching tools. Now that you've read this, you should have a good notion about the above-listed tools. Besides simply giving you an overview of these tools, this also established that opting for the right LMS – like Edneed– can save you from spending extra time and money by providing you with all the essential tools in one place.