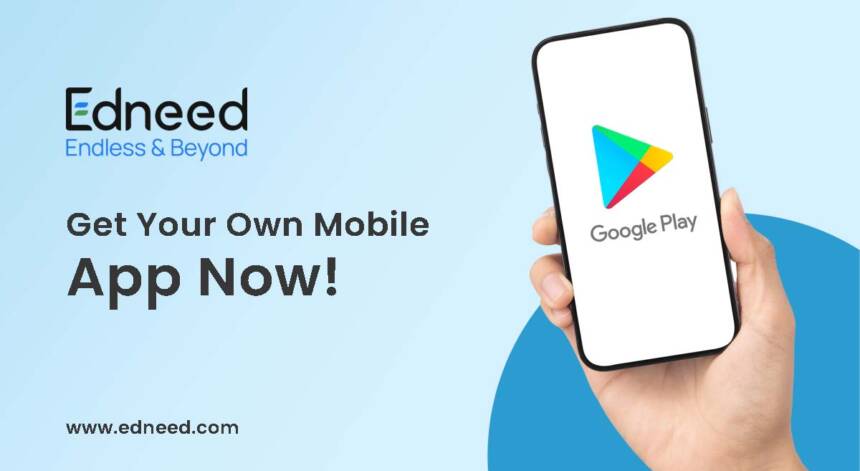 EDNEED MOBILE APP, GET SUCCESS & GROWTH ASAP
Overview
A mobile application or an App is basically a computer program built to be run on mobile phones, smartphones, tablets etc. Mobile Apps are so convenient that there is literally an App for apparently everything on the internet. Feeling hungry? Open a food delivery app and satisfy your hunger, getting late for work? boom , book an Ola, Uber or a Rapido for that matter. Banking transactions, booking tickets, finding your life partner all has become so easy thanks to all these mobile applications. We can effortlessly perform all the imaginable tasks through these apps, all the services and life leisures are constantly at our fingertips.
Edneed is known to constantly set benchmarks in the field of Education Technology. We believe in improving ourselves continuously and delivering high quality products and services which completely satisfies our customers. Keeping this in mind, We are pleased to announce the launching of our own mobile App.
Utilize the M Factor
Edneed mobile app is here and so are the endless possibilities for you and your educational institutes and schools to experience consistent growth. We have covered the last mile distance and have now made our way straight into your smartphones only for your convenience and to provide the best of our services. Now, it's up to you to fully utilize the M-Factor.
MANAGE:- Now, effortlessly manage all your school or institutional activities from anywhere through Edneed mobile app. Get all the features that our website offers at your fingertips, manage classrooms, teachers and staff. End-to-End school management and supervising all activities has now become much easier and faster.
MONITOR:- Monitor all the progress of your school, students, teachers or staff through Edneed mobile app. Keep in check all their performances, track records, attendances, leaves and schedule holiday calendar easily with our mobile app at the comfort of your smartphone.
MULTIPLY:- Last but not the least, according to statistics 79% online buyers purchase online only via their mobile devices. So the easiest way to expand or multiply your school or institute is to target the population which extensively uses mobile phones and an App is just a perfect recipe to make that happen.
Get your own Mobile App
You can easily manage, monitor and multiply your institutes or organizations with the Edneed mobile app but the most important thing, Now you can have your own mobile app. We will provide you with our expertise, our knowledge in developing an efficient and magnificent app for your institute. Here are some reasons why you should immediately have your own app.
FAST OPERATION:- Mobile apps are superior and way faster than a mobile website. It is a well known fact that even a well optimized website is way slower than when compared to a mobile app. Apps use caches which guarantees faster and smoother operation and according to statistics more than 90% users immediately leave an unresponsive or slow website.
ABILITY TO USE DEVICE FEATURES:- Mobile apps leverage the features of your smartphones. The most basic example is the options of payment gateways, while making payments online through websites you need to put your bank details or card details into the website which is very time consuming on contrary a mobile app will just ask permission to make payments through your mobile bank application which will hardly take a couple of minutes to process.
NOTIFICATIONS AND PRODUCT UPDATES:- You can endorse your products or services through your own mobile app with push notifications. You can give the updates, details about features and specialities about your services. This is also a great way to ensure good customer engagement.
APP ACTS AS YOUR BRAND AMBASSADOR:- an application can captivate the attention of customers through various dimensions. An app acts as the brand ambassador of your school or educational institute, as mentioned earlier the majority of people use smartphones and spreading awareness about yourself and your brand through a mobile application is not a big deal.
Conclusion
So, what are you waiting for? Use the M Factor and witness growth, improve engagement with current and potential customers, enhance your brand awareness and value. Get your brand name to be featured in google play store, compete with the best and become the best. Get your mobile App, witness success and growth Asap.