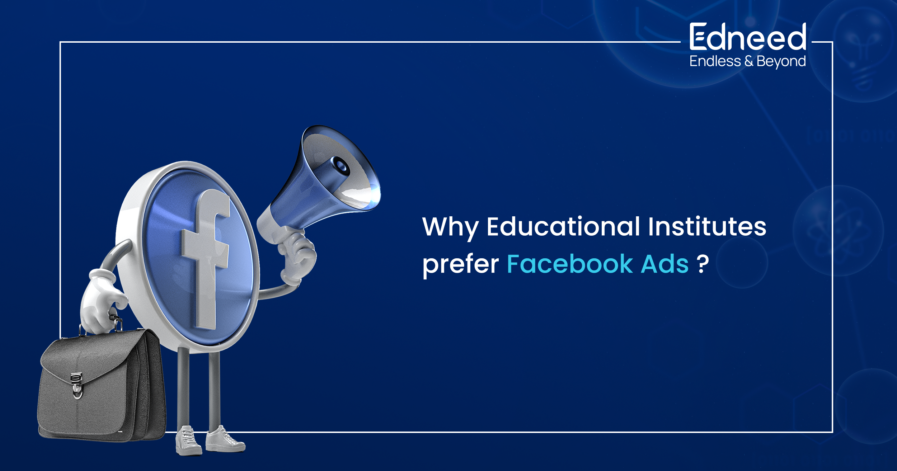 Why Educational Institutes prefer Facebook Ads
This social media platform allows for advertising that is reliable, targeted, and most importantly, cost-effective. Other benefits of using Facebook include its ability to target certain demographics with specific offers and coupons as well as the fact that it is a prominent way of reaching out to students on their preferred devices.
Here are a few explanations for why Facebook advertisements are effective:-
1: THE LOW COST OF FACEBOOK ADS
Particularly when compared to other online advertising channels, Facebook ads may be highly cost-effective. You not only have complete control over your budget and can decide exactly how much you want to spend, but you can also receive results with a modest spending limit. A terrific tool for anyone who already knows how much a lead is worth to their business is the possibility to set daily or lifetime budgets. You can also tell Facebook how much you are prepared to spend per result.
2: TARGETING OPTIONS WITH FACEBOOK ADS
Without having a clear idea of how to choose an appropriate audience, Facebook users who utilize the "Boost Post" feature to sponsor their page can generate a lot of revenue. You'll receive a far higher return on your investment if you learn how to target your advertising spending.
3: FACEBOOK ADS WORK BECAUSE OF THE ABILITY TO TEST
You may split test your ad campaigns on Facebook by showing several versions of your ad to your target audience to determine which gets a better response. For instance, you can select different photographs, change the text, or compare a single image to a carousel or video creative. You can decide to devote the remaining funds from your budget to the version of the advertisement that clearly wins where there is a contest. This is a revelation if you've ever operated marketing campaigns purely on intuition, as many small firms do. It's both easy to set up and ensures that your advertising actually works.
4: CUSTOM AUDIENCES AND THE FACEBOOK PIXEL
The Facebook Pixel is a brilliant piece of code that you put to your website if you aren't already familiar with it. It will then be easier for you to remarket to warm leads like past website visitors or even people who have dropped out of the checkout process without completing their purchase. This increases the conversion rate you get from all of your website traffic, regardless of where it comes from, and it also applies to a wide range of circumstances. The Facebook Pixel will assist you in achieving all of your desired business outcomes, including getting more candidates to submit their resumes on your website, executives to enroll in your training program, potential clients to schedule a call, and a whole host of other highly desirable business outcomes.
EDNEED  can provide your educational institute, business or organization with all these digital marketing services which can greatly improve your brand or organization's value and visibility.  
Search Engine Optimization (SEO)
Search Engine Marketing (SEM)
Website Designing
Social Media Marketing
Email Marketing
Content Generation and Optimization
Integrated Online Marketing Strategies
Conclusion
With over 2.93 billion monthly users, Facebook still stands as one of the major social media platforms for advertising. Facebook ads can be very impactful and can target the masses within very less time, the art of Facebook advertising lies in its ability to persuade people about why you are offering something that is better than your competitors' products. Facebook ads are a game changer and with the ever-increasing need to learn new skills, it is becoming more and more necessary for today's educational institutes to invest in Facebook advertisements.