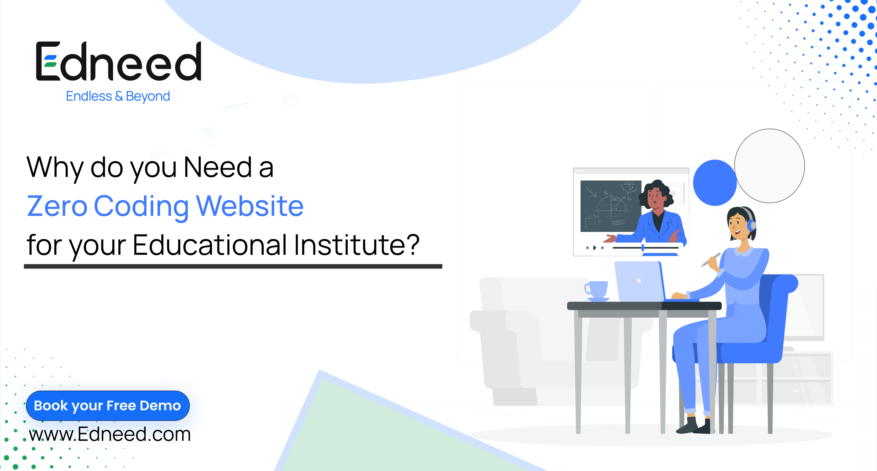 Why do you need a Zero coding website for your educational institute?
The importance of a website in today's world is needless to mention. It is very crucial for any institute to have a website of its own today. It's a platform where the users of the product or service can get all the information needed.
In the case of a school or college, the students can get all the information required by them. Some of that information can be exam schedules, progress reports, tasks, assignments, projects, attendance records, curriculum, notices and so much more. Therefore, it is very important for each school, college, and other educational institution to have a website of its own. But for someone who does not have a lot of coding knowledge, it can be very difficult to create and manage a website. Therefore, A Zero coding website is something that can help you out. 
What is Zero coding website?
A zero coding website is a website that needs no technical coding knowledge to build a website for oneself. These websites can be for a brand, business, or institute. They are simple to make and need no expertise in coding. They help create awareness or drive sales for their product or service. It is the best alternative when it comes to people who belong to non-technical backgrounds and lack coding knowledge. It is simple, easy, and can be handled by anyone. A Zero coding website is easy to build as well as maintain. 
All educational institutes adapted online learning as their way of imparting knowledge after the world was hit by Covid- 19. This is exactly where a zero coding website helps the schools. A can help in the documentation, administration, tracking, reporting, automation, and delivery of educational courses, training projects, or learning and development courses. It can help the parents track their children's reports and also connect with the teachers in case of any issues. A website has innumerable benefits and therefore it is a must to have one.
Benefits of having a Zero Coding website 
Technology has grown leaps and bounds in the past few years. Today all information is available on the internet. It is the storehouse of information. Most people today use the internet to look for information about things. Therefore, in such scenarios, it is a smart option to have your own website. It can help build a lot of credibility for your educational institute and build trust in your user. It is also a way in which you can put out useful information and highlight the features of your business or institute. In this case, it is great to build a website that is easy to use and can be handled by anyone without prior knowledge of coding is a great option.
Today almost all educational institutes conduct online lectures. This enables the students to attend lectures from the comfort of their homes. Online lectures have changed the way we impart education today. Students grasp better through illustration and are also able to review the recorded classes multiple times if they need a quick revision because of recorded sessions. This was impossible earlier. Additionally, it is now possible to take notes online and share the documents with the entire class via pdfs or e-notes.
Via a website, all these facilities can be accessed.  The website would make it very easy for students to access information by logging into their dedicated profiles. They can access the dashboard where the information about the online lectures and educational material is mentioned. Thus, we see that there are multiple benefits of having a website.
Why Zero coding website?
A zero code website is just an easy and simple alternative to complex coding websites. These give you all the benefits without having to g through the tedious and difficult coding procedures. You can easily delegate the maintenance of the website to anyone as these require very little maintenance. A zero code website can be built in a limited time of two to three weeks depending upon the complexity and the requirements of the user. To get a Zero Code website built for our educational institute you can get in touch with Edneed.
About Edneed
There are multiple website builders but one of the better ones has to be Edneed. Edneed has made website building easy, simple, and quick Edneed allows you to build a website for your school in less than 2 mins. The user interface is simple, easy, and effective which makes it possible for students and teachers as well as parents to adapt to this new way. It is simple and effective.
Edneed enables learners to gain knowledge and pass it to millions worldwide. Edneed wants to transform the world of education and make education accessible to all. It is on a path to building a community of learners and educators worldwide. To get an impactful website, contact Edneed at https://edneed.com/