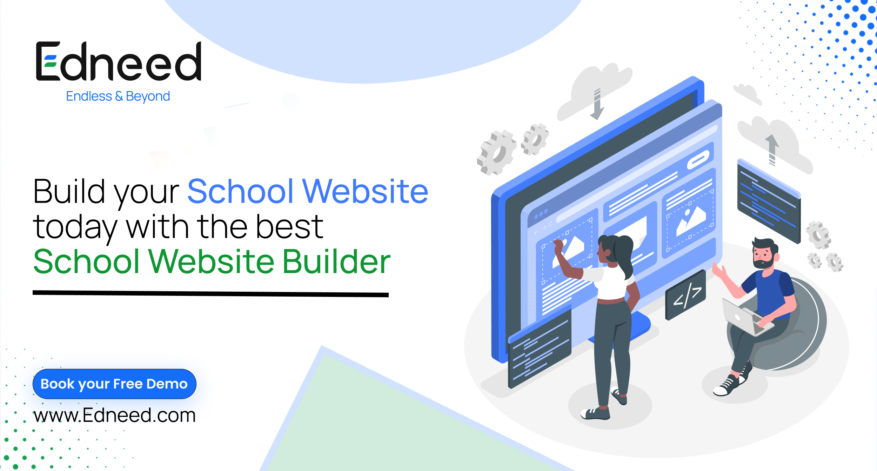 Build your School Website today with the best School Website Builder
Using HTML to create educational web pages for your school can be time-consuming, difficult, and costly. Using the online School Website Builder Tool, which includes predesigned templates, to create a professional website design can thus save administrators a significant amount of money, resources, and time.
In this day and age, technology has created more than enough platforms to reach the masses, such as mobile phones, televisions, newspapers, and so on. Meanwhile, people became addicted to smartphones, PCs, and laptops due to easy Internet access. This is why a school needs a website, as it is the simplest and most cost-effective way to attract people's attention.
Importance of School Website
A school website is more important than ever because it provides students and parents with important information such as academics, classroom programmes, newsletters, facilities, admission procedures, fee structure, timetable as well as schedules, and contact information. It also increases the chances of increasing student admission enrolment.
In this extremely competitive market with many excellent alternatives, Edneed offers a nearly professional strategy for marketing admissions by recounting success stories. And also including pages that support both students' and parents' contentment. The school website makes it possible to include a photo/video library, extensive diagrams. As well as numerous vignettes highlighting graduate classes, faculty, and current students.
If potential students found you online, they are very likely to have visited your website. It is also true that new students who have been referred by a friend or a consultant will visit your website to learn more about who you are and what you have to offer.
Having a website will ultimately save you time
In language travel sales, we send emails, take calls, send out quotes or application forms. Basically, we communicate with potential customers in different ways (directly or through agencies), all of which takes time. Your website can save you time by answering frequently asked potential student questions and inquiries. Providing easy access to information about your company in an engaging manner will result in more communication with less staff time.
Even before the pandemic, having an online presence was important, but it is now an absolute necessity. At this time, your website and social media are likely to be your only means of developing brand awareness. Making this a critical component of any survival strategy in the education industry.
Edneed provides Responsive Websites
Even though Edneed websites are responsive and have an unlimited hosting capacity, changing or editing a page instantly reflects on the other pages. This eliminates the need to go to each and every page and manually change the content.
Edneed ERP institution management software includes some eye-catching and appealing predesigned templates to create a free website online. In addition to administrative tools to manage students and digitise day-to-day school operations, to alleviate the burden on schools. The software enables school administration to efficiently create and build websites for their organisation at a low cost. And without the need for designer expertise or knowledge.
Features of Edneed School Website builder
Custom School Website Design
Select from a variety of templates that are appropriate for your institution. Website architecture, which is part of Edneed, offers a variety of webpage composition services with exceptionally customised templates that assist educational institutions in improving the appearance of their website. Custom web improvement, duplicate composition, blog creation, video generation, animation movements, sound and logo creation, audio recordings and various other credits are included in the website compositions.
Mobile-Friendly School Website Design Responsive/Media-Friendly
Edneed created websites are tablet and mobile-friendly. The application assists in the design and distribution of content on any smartphone or tablet. Take photographs and record videos to create short pieces that can be quickly published on web pages using any device. This exclusive mobile-friendly school website for teachers is highly responsive and accurate, thanks to automated software.
Unlimited Hosting Bandwidth & Storage /SMS/Email
Edneed offers the most affordable and best-in-class dedicated servers to assist schools in making their resources available to the general public through the website. Gain access to file uploading, sharing, archiving, backup, mirroring, distribution sites, and more with Edneed' unlimited hosting service.
Best School Website Builder and School Management System
Edneed offers the best school website builders as well as the best school management system to assist you in completing daily tasks and improving instruction. We created a straightforward system to encourage educational institutions to work harder and more efficiently. Edneed can be used to automate routine administrative tasks as well as to keep parents informed about their children's progress. Will, in fact, help and instruct you on how to create a dynamic website.
A sophisticated learning management system Edneed not only recognises these functions. But it also gives instructions and examples of how to use them. Edneed's goal is to personalise and improve each child's learning journey in order to advance teaching and learning. There are numerous options for student assistance, in addition to basic and advanced data tracking.