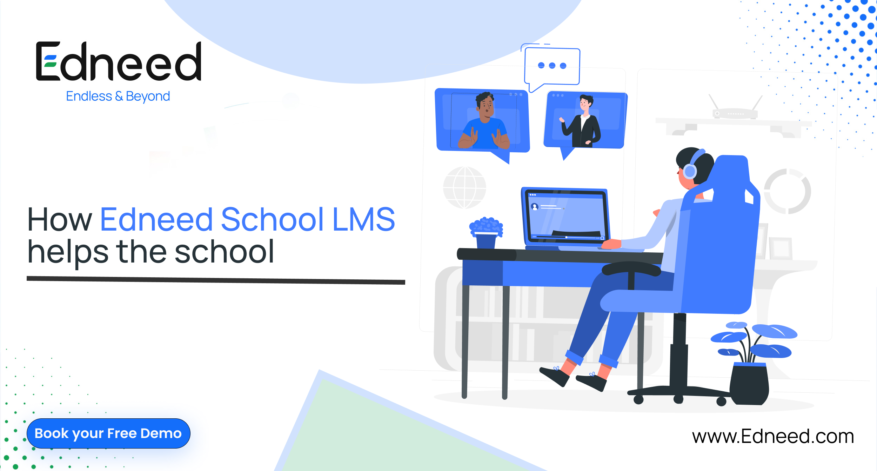 How Edneed School LMS helps the schools
For educational institutions, online learning has become a requirement. Today, institutes cannot provide students with quality education unless they use live classes. This technology has aided the education industry in developing new teaching methods. Teachers can now teach students using multimedia resources and other engaging content formats. Furthermore, students are engaged and motivated by online learning. Several studies show that online learning has a positive impact on students' growth and development. They are more interested in learning and improving their skills. However, the transition from traditional to online learning was never easy. In this article we will tell you how Edneed School LMS helps the schools.
The Edneed learning management system, on the other hand, has made the transition easier. If you're unfamiliar with the term, you might be wondering what LMS is in education. Edneed LMS improves the classroom experience for students and assists them in clearly understanding the topics. If you are thinking how Edneed School LMS helps the schools, you should first understand what LMS is.
What is LMS in Education?
Most school administrators and teachers are curious about LMS in education. It is software that is intended to manage and facilitate effective learning. It can be viewed as a complete teaching solution for both students and teachers. Teachers can use this portal to upload course content, which students can access through their profiles. Live learning and recorded sessions are both supported by the LMS. Furthermore, it facilitates communication, stores student data, and tracks each student's progress. In a nutshell, Edneed LMS helps everyone involved in the education industry.
Reasons how Edneed School LMS helps the schools
Following are the points to describe how Edneed School LMS helps the schools.
Increased levels of participation
Educators can create and upload content in a variety of formats using an LMS. As a result, they have the potential to make the classroom more interactive. Using multimedia resources, teachers can provide valuable learning to students. They can also create e-courses by sourcing learning materials from various education portals. The classroom lectures can become tedious at times. Students' performance may suffer as a result of their loss of interest in learning. LMS keeps the classroom interactive and fun, and it improves classroom learning. Furthermore, it ensures that all students have equal and up-to-date access to course materials. Students can access the course materials whenever they want and learn at their own pace.
Flexibility
LMSs provide learning flexibility by allowing students to access course materials at any time. Furthermore, educators and students can access the content via mobile devices. Teachers no longer need to create separate content for virtual classrooms as a result. Everyone has easy and consistent access to LMS during online and traditional learning. Students will learn about various topics at their leisure due to the flexibility. Students can access new content or revisit old ones at any time and from any location. They can also plan their learning schedule to get the most out of the educational content.
Options for evaluation
To grade their students, educators can create a holistic assessment system. Grading is made easier by LMS because it automates the process. Using the LMS, teachers can create and schedule quizzes and tests. Furthermore, teachers and school administrators can track student progress based on course material completion. LMS also organises and stores large amounts of data. As a result, it assists teachers in developing a simple approach to tracking student progress. The learning management system (LMS) is a two-way process for tracking students' growth and development.
It provides assessment options for teachers as well as feedback features for students. As a result, students can voice their opinions about the course content and teaching methodology. For example, if the majority of students are dissatisfied with the course content, teachers can change it.
Scalable and integrated solution
LMS is used in schools and other educational institutions to improve efficiency and schedules. To facilitate online learning, LMSs include features such as calendars, student forums, and communication channels. Individual course creators will also benefit from the portal. They can use a learning management system (LMS) to share and market their courses on social media platforms. Furthermore, because all of the lectures, notes, and other learning materials are available on the same platform, they can enrol more students in their course.
About Edneed
Edneed is a high-end learning management system that not only recognises but also offers assistance and examples of how to use these functions. Edneed is designed to be personalised to each child's learning journey and to enhance that journey in order to advance teaching and learning. It includes a variety of options for student support, seamless data tracking, and enhanced teacher and student reflection.
Edneed offers the best school management system to assist you in completing daily tasks and improving instruction. We created a simple system that encourages educational institutions to be more productive and efficient. You can use Edneed to automate routine administrative tasks or to provide parents with information about their children's development.