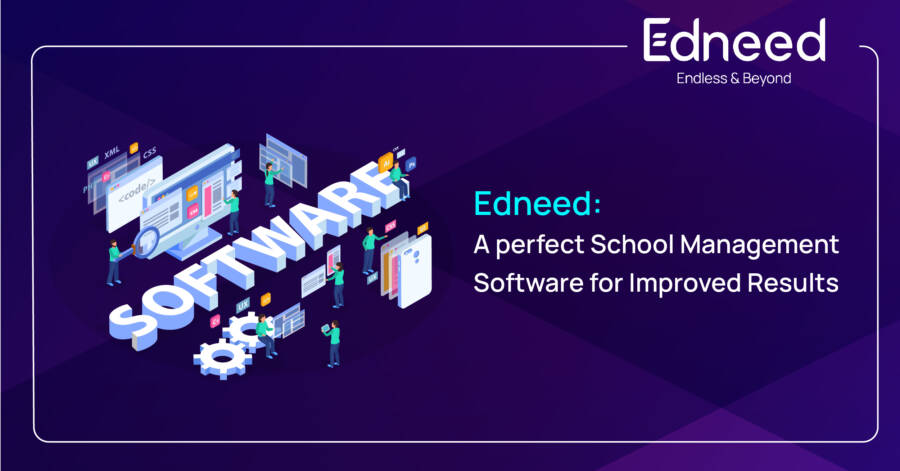 Edneed: A perfect School Management Software for Improved Results
Overview
It is the utmost priority for any educational institution to provide its students with the right and equal opportunities. It can bring them a step closer to their career aspirations. To that, keeping track of academic and non-academic skills becomes essential. Institutes can improve their results with Management Software by evaluating their performance.
Edneed School Management Software allows the institute admin and teachers to overview students' activities. Our software is loaded with features that will help in tracking attendance, creating an online test with moderation, etc. It also creates a seamless learning environment in an institute by easing up daily activities for teachers.
Edneed: The Perfect School Management Software
Various administrative & non-administrative tasks can be automated through school management software, i.e online classes, online admission, online fees management, exams, and assessments. In other words, it increases productivity and efficiency in a variety of ways. Such Software can be categorized into four main categories based on its main features. Regardless of the number of features listed, there will always be a basic set of features to accommodate nearly every educational institution's needs.
As the time is being changed, it is the perfect time for institutes to opt for management software to smooth up the digitizing process. The software makes it easier for educational institutions to organize and maintain their instructional structure, curriculum, syllabus, and communications, as well as provides some powerful reporting functionality to help them stay on top of all tasks. Check this blog to get an overview of how Edneed is the right solution for the institute: School Management Software Tailored For Your Institute
How Schools can use Edneed for the development of students?
The School Management Software allows teachers to improve their teaching methods, while at the same time allowing them to share the same teaching materials in the classroom.
The accountability of teachers rises amid online classes. It also created situations where teachers have to find multiple ways in order to keep the students engaged. Thus, the easy-to-use dashboard of Edneed SMS makes sure that teachers and students are not engaged in many technical tasks and are focused on their teaching and learning activities.
It is so important that messages are being conveyed in an effective way, whether it is any notice from the school, a scheduled online class, upcoming online tests, or assignments. As every teacher and student is enrolled in the SMS, all such communications can be initiated via email with just 1 click. This way, parents too will be roped in their child's academic activities.
Online Tests and Assignments
As all the teaching and learning activities had shifted partially or fully to the online mode; it has become extremely important for schools to evaluate their students' academic progress throughout the year. And, what else can be better to evaluate them than online tests and assignments? Schools can use our management software to give assignments, create tests on the platform itself. And Edneed software offers schools to moderate the online test in order to evaluate every student fairly.
We all are aware of the fact that every other student has a different way of learning and understanding a concept. However, in the traditional mode, students usually don't interact much with their teacher which may lead to unclear doubts. Whereas, Edneed SMS offers teachers and admins to add study material to the platform itself so that students can continue their studies at their preferred time and pace.
How can Edneed help teachers improve teaching methods?
The management software eases up the administrative and various tasks to reduce the workload from teachers. Also, it is undoubtedly necessary that the interface of the SMS is easy to use and user-friendly. It will eventually save the time of teachers from hassles. And, when teachers don't have many technical tasks or other paper works to do, they can be more attentive towards their teaching.
Apart from that, they can schedule extra online classes, create quizzes and video assignments to make the learning more engaging. Edneed SMS allows teachers to interact with their students using the learning community and upload short videos on the study material section to clear the concept of topics. As teachers have almost every data of their students, they can try various methods to tackle the situation. Here are a few more tips for teachers to make the learning more engaging: List of Methods for Effective Online Teaching
Conclusion
The management software that Edneed provides covers every need of an educational institution. The user-friendly and less technical interface of our platform saves time for both teachers and students, which will lead them to more effective teaching and learning activities. Edneed is the perfect school management software that ensures improved results for students of your institute with its digital solutions.